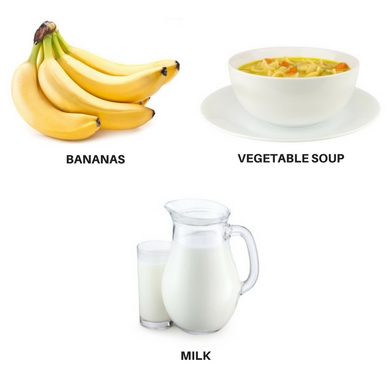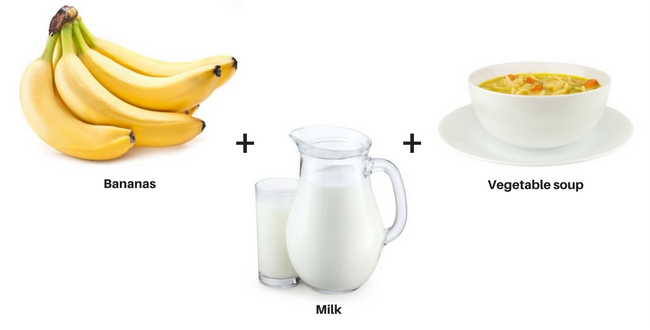 DRINK:
Have at least 8-12 glasses of water per day
EAT PREFERABLY:
Bananas (up to 8-10), milk (4 glasses) & GM special vegetable soup (1-2 bowls)
DON´T EAT:
Anything else
DAY #4 = MINERAL REPLENISHING PHASE
Finally, on the day four, you are allowed to eat that forbidden fruit – the banana. Actually, you can have up to 6 large ones or 8 medium sized. You will combine it with four glasses of milk distributed throughout your day.
All those bananas and milk are ideal for replenishing crucial minerals (such as calcium or potassium) and energy levels.
To make combating food cravings easier for you, you are allowed to have a bowl of GM vegetable soup (ideally for lunch). If you feel like you can not make it without food, you can have one even for a dinner.
Also, do not forget to drink a lot (8-12 glasses) of water. It is crucial for this diet to work to always keep yourself well hydrated.
OUR TIPS TO GM DIET DAY #4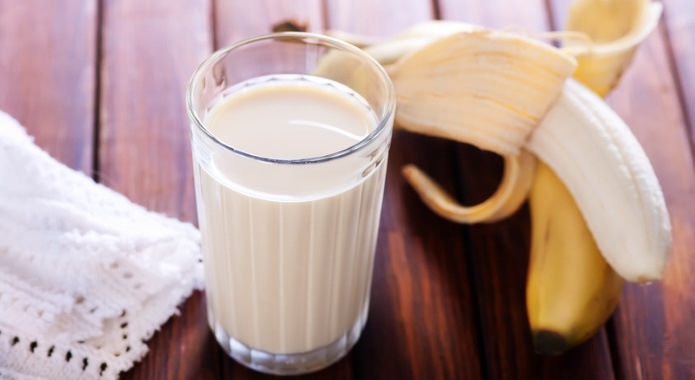 GET READY, IT WILL BE A TOUGH DAY
Although you have finally the opportunity to indulge in bananas and milk, this will be all that you can eat during the day #4. This way, your taste-buds will become really bored.
Try having banana-milk shakes for breakfast and dinner. For a lunch and dinner, you can have the GM special soup. If you are still fighting your cravings, then try to increase your liquid intake.
Trust me that the monotony of eating bananas and milk can make you feel demotivated and that you may also experience mood swings.
BOOST YOUR METABOLISM
Because both bananas and milk will give you a lot of energy, my advice is to use it to improve your metabolism. Try some basic exercises but pay attention not to injure yourself.
Just keep in mind that on a low calories diet, you may feel fatigue and weakness. If you are dizzy, just avoid exercising altogether.
GM DIET DAY #4 & EXERCISES
In general, exercising during GM diet is not recommended as you may feel nausea, fatigue, and dizziness especially on a day #4. However, bananas and milk will provide you with a lot of energy.
That is why you may try to either begin or end your day with a mild exercise.
However, I do not recommend to do anything more intense than a light stretching, spot jogging, and basic Yoga poses. If you feel like you have the strength to do more, then go for a short run or walk up some stairs.
Just keep in mind that exercising is not recommended as you may easily injure yourself due to lack of nutrients while following this restriction diet.
Don't do heavy weight workouts. Since you're following a low-calorie (low-protein) diet, you won't be having enough strength/stamina to do heavy workouts. Instead, perform simple Yoga poses while on the GM Diet program.