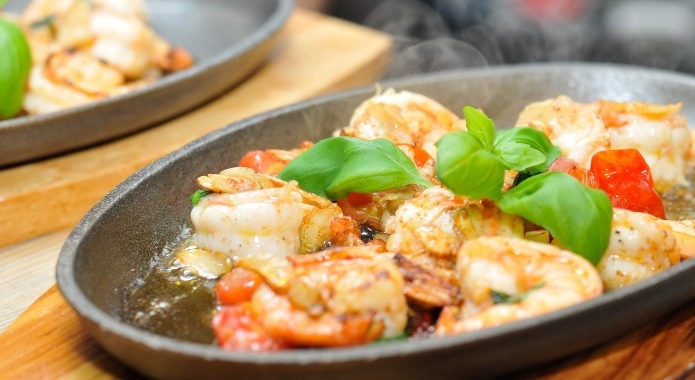 Following a low carb diet is a great way to lose weight and prevent future problems. If you've been diagnosed with diabetes, cutting back on your intake of carbohydrates will help you maintain your health.
It can be difficult to limit or cut out some of your favorite foods, but by trying innovative and exciting recipes you will discover new favorites that will quickly replace the unhealthy meals you once indulged in.
However, keep in mind that going low carb doesn't have to be boring. There are so many fun, creative and delicious meals that have less than 50 grams of carbohydrates per serving. Try these twelve to change up your weeknight routine.
1. Cowboy Breakfast Skillet
Start your morning off right with a breakfast skillet that's packed with protein, fiber and plenty of spice. This meal combines following ingredients:
Sausage
Eggs
Sweet Potatoes
Avocado
Cilantro
Cheese
Hot Sauce
This southwestern dish that will leave you feeling full all morning long. Cook this up in a cast iron skillet for best results.
2. Enchilada Chicken Mango Salad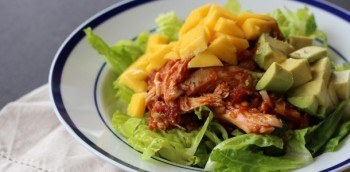 Spicy enchilada chicken and sweet mango are the stars of the show in this recipe.
Just toss together some:
Leftover Enchilada Chicken
½ Avocado
1 Mango
Small Head of Romaine Lettuce
Sprinkle of Salt & Pepper
This salad couldn't be easier to put together, and requires only a handful of ingredients.
Read this: 5 Simple Strategies for Conquering Emotional Eating
3. Salmon with Lemon, Capers & Rosemary
Salmon is one of the healthiest foods you can eat. It's the ideal source of omega fatty acids and protein.
Although this is considered a "fatty" fish, its high protein content actually helps you lose weight, and keeps your feeling fuller for longer.
It combines:
Salmon Fillets
Rosemary
Capers
Lemon
Marsala Wine
All for a gourmet-style meal you can whip up in your own kitchen. This quick and easy recipe takes just 30 minutes from prep to finish.
4. Baked Chicken with Thyme & Sage Butter
This recipe requires quite a bit of prep work, but the end results are well worth the time and effort. Served with a side salad, this dish combines:
Skin-on Chicken Breast
Fresh Thyme
Sage
Parmesan Cheese
All this for a savory meal that everyone will love.
You will love this: 8 Weight Loss Success Stories That Will Definitely Inspire You
5. Mediterranean Chicken Lettuce Wrap Tacos
In the mood for tacos, but want to avoid the extra carbs? Martha Stewart's Mediterranean lettuce wrap tacos will satisfy your cravings without the guilt.
Top your tacos with:
Chicken Breasts
Roma Tomatoes
Tzatziki Sauce
Feta Cheese
Red Onion
Kalamata Olives
Fresh Herbs
This is a great dish for lunch or dinner.
6. Incredible Apple Tart
The Incredible Apple Tart is a diabetic-friendly dessert that's so delicious, you'll never know it's low sugar. The secret is in the crust, which is made from:
Rolled Oats
Whole Wheat Flour
Pecans
Cream Cheese
Butter
For a sweeter version, use Granny Smith apples.
7. Low Carb New York Ricotta Cheesecake
This version of traditional cheesecake is every bit as creamy and indulgent as the original. This crust-less dessert combines following ingredients:
Cream Cheese
Ricotta
Sour Cream
Heavy Cream
All this for creating a delicious dessert your family will love.
These Are The MOST SHARED Posts:
8. Savory Bacon Kale Frittata
A frittata is, essentially, a crust-less quiche. This savory version of the popular breakfast dish includes:
Juicy Grape Tomatoes
Bacon
Onions
Kale
Mozzarella Cheese
Best served in a cast iron skillet, this frittata cooks up in just 10 minutes.
9. Vietnamese Cauli-Fried Rice (Grain Free)
If you're looking to satisfy your fried rice kick, this "cauli-fried rice" will do the trick. Grated cauliflower takes the place of rice and is paired with:
Carrots
Onion
Asparagus
Sausage
Shrimp
Cilantro
Garlic
This recipe is grain-free and loaded with veggies.
Make sure to read this: 7 Important Reasons Why No Carb Diet Is Bad for You
10. Pork Skewers with Caprese Salad
This pork skewers with caprese salad is perfect meal for summer barbeques. Pork loin steaks are marinated in:
Greek Yogurt
Garlic
Basil
Parsley
Lemon
Olive Oil
Then grilled to perfection. What is more, the skewers are paired with:
Tomatoes
Bocconcini
Basil
Red Onion
Light Vinaigrette
11. Peach-Berry Frozen Dessert
Peach and berries pair up in this creamy frozen dessert. This low carb treat combines:
Fat-Free Cream Cheese
Whipped Topping
Low-Fat Yogurt
Peaches
Medley of Berries
This is a great alternative to ice cream and the perfect dessert for a summer cookout.
12. Berry-Cream Cheese Tart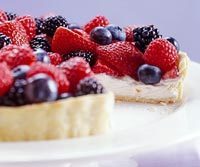 This delicious tart has just 15 grams of carbs per serving and it is surprisingly easy to make. A homemade tart pastry is topped with:
Cream Cheese
Marmalade
Whipped Dessert Topping
Fresh Berries
Try making the tart pastry ahead of time to reduce prep time.
2 Apps for Low Carb Recipes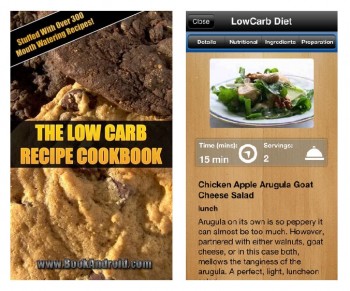 If you're looking for even more inspiration, try these two great apps:
Low Carb Recipe Cookbook – Available for Android devices, this application offers more than 300 meals from every category, including breads, entrees, salads, soups and more. All of these come with easy-to-follow directions and have no more than 50 grams of carbs per serving. The best part? It is absolutely free.
Low Carb Diet (Recipes To Lose Weight) – Available for iOS, this app provides hundreds of meal ideas for breakfast, lunch, dinner and even snacks. With this one, you can star your favorite recipes for quick reference and search through its database of instructions to find exactly what you're looking for. This app makes it simple and easy to stay on the right track. Its PRO version is just $1.99, which is a small price to pay for access to so many excellent meals.
Other Resources
2 Great Cook Books
500 Low-Carb Recipes by Dana Carpender – This is a national best-seller and includes mouth-watering, low-carb instructions for appetizers, muffins, breads, snacks, side dishes, cookies, entrees, cakes, desserts and so much more. This cookbook also includes meals for single people and tips on how to break out of old eating habits. With 500 possibilities to choose from, you'll never grow bored of your diet again.
The Low-Carb Cookbook by Fran Mccullough – Author of this book is a guru. She's the one who introduced the world to almond meal bread and the idea of using cauliflower as a potato substitute. This is a must-have resource for anyone who is serious about following a low-carbohydrates meal plan. In addition to excellent recipes, this book also provides information on the health benefits of limiting carbs and how to stock your pantry with staples that are low on this substance.
2 Useful Websites
Food.com – This site has more than 85,000 tasty recipes, all submitted by everyday users. You'll find plenty of stuff for meat-lovers and vegetarians alike. From salsa chicken to pan-roasted broccoli Food.com has something for every taste and every diet type.
TasteofHome.com – Taste of Home is a great low-carb resource. Although some of their recipes are only available to subscribers of the magazine, the website still offers hundreds of free ones that any user can view. Taste of Home offers inspiration for breakfast, lunch, dinner, dessert and snacks.