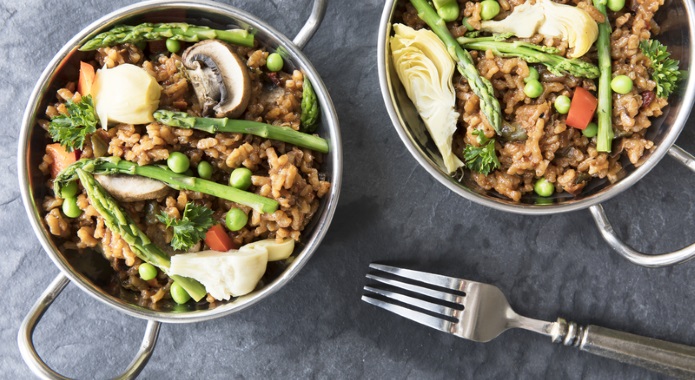 The success of modern vegan diets has been an exciting time for culinary enthusiasts for their ability to be a dual threat in both abstaining from meat as well as addressing important health issues. Each year, more and more chefs throw their hats into the ring in creating unique, satiable recipes that are pleasant to the palette and body.
Vegan dishes are hugely popular because of their emphasis on fiber, vitamins E and C, as well as magnesium. All contribute to giving us energy, reducing chronic diseases, and helping us function like a well-oiled machine.
But that is just the tip of the iceberg, as vegan diets are also flavorful and fun to prepare. Which begs the question, what are the ten best vegan cookbooks you can buy right now? Let me guide you through the list of my favorites.
¡SALUD! VEGAN MEXICAN COOKBOOK
(BOOK #1)
CLICK ON THE IMAGE ABOVE TO SEE WHAT IS INSIDE
The "Salud! Vegan Mexican Cookbook" is a terrific starting point for people wanting to indulge in this style of dieting because Spanish food typically has shorter preparation times and are less complicated to put together.
Mexican is a frequent comfort food to those that binge eat, so if you are worried that you cannot adjust to vegan eating overnight, it is a convenient place to begin. Eggplant barbacoa tacos offer robust spices, and classic chile relleno mix beautifully with horchata mexicanas.
Author Eddie Garza has been at the forefront of nutrition in the Latin community, so to combine his passion with mouthwatering eats makes us all winners in the taste department. Animal ingredients are simply not necessary to enjoy green mole sauce enchiladas!
BUT I COULD NEVER GO VEGAN!
(BOOK #2)
CLICK ON THE IMAGE ABOVE TO SEE WHAT IS INSIDE
"But I Could Never Go Vegan" is a humorous take on the way of cooking, but make no mistake, its explosive 125 recipes pack a mean punch on your taste buds.
Blogger Kristy Turner adds in exquisite homemade toppings like ranch dressing, sour cream made of tofu, and barbecue sauce to extract the powerful flavors of mushroom cheddar grilled cheese sandwiches, macadamia ricotta, and carrot cashew pate, among others.
This assortment of dishes is also a nice 'starter kit' for those curious about vegan food and unsure of how to get moving. "But I Could Never Go Vegan" is refreshing in that it is honest in its presentation of ideas, speaking directly to people that are skeptical that vegetarian dieting could ever be tasteful.
FORKS OVER KNIVES: THE COOKBOOK
(BOOK #3)
CLICK ON THE IMAGE ABOVE TO SEE WHAT IS INSIDE
Most of us have heard of the documentary "Forks Over Knives," but few realize the related cookbook comes with a tasty recipe for almost every single day of the calendar year. Plant-based eating is commonly associated with avoiding cancer, and even occasionally reversing type-2 diabetes.
Mix this with the fact that weight loss almost always follows, and "Forks Over Knives" introduces a generation to inspired, and unexpectedly delectable flavors with substantial lifestyle influences.
This cookbook dispels the myth that vegan eating is bland and unimaginative, with polenta pizza, vegetable chowder, and berry smoothies lighting up anyone's tongue. Included are even desserts for your sweet tooth, with cobbler and apricot fig squares topping off any meal with ease.
DASH DIET COOKBOOK
(BOOK #4)
CLICK ON THE IMAGE ABOVE TO SEE WHAT IS INSIDE
Using a slow cooker is almost a religion for some culinary connoisseurs, and the "Dash Diet Cookbook" provides vegan recipes that are designed to lower blood pressure and prepare cuisine at a slower rate to ensure flavors are trapped within.
The longer the cooking process, the more ingredients can be identified by taste, and Dash Diet is not short on the zest.
Dash focuses specifically on stopping hypertension, and because of the method of cooking, is one of the better equipped to handle things like soups and stews. The seasoning used can go from mild to spicy, and experimenting with pasta and seafood is well within your reach.
Incorporating low-fat dairy products in some recipes along with whole grains also give you some relief if you suffer from a gastrointestinal disorder.
VEGAN FOR EVERYBODY
(BOOK #5)
CLICK ON THE IMAGE ABOVE TO SEE WHAT IS INSIDE
Breakfast, lunch, dinner and even snack time are within the pages of "Vegan For Everybody." There are hundreds of special diet health cookbooks, so when one of them is a finalist for the IACP, consumers should take notice.
The feedback for "Vegan For Everybody" is overwhelmingly positive, which is ironic because it spends time putting those anxious about vegetarian eating at ease. Not everyone has always avoided animal products in their food, so occasionally the jump to vegan dieting can seem daunting.
This cookbook starts you slow with 200 recipes of familiar foods like pizza, and gradually works you up to more challenging meals. Lasagna and even burgers are examples of recipes ripe with hearty, familiar ingredients.
SIMPLY VEGAN COOKBOOK
(BOOK #6)
CLICK ON THE IMAGE ABOVE TO SEE WHAT IS INSIDE
Time is always of the essence, and the "Simply Vegan Cookbook" makes preparation a breeze with each recipe taking no longer than 30 minutes to cook. Simply Vegan is also unique in how it presents its recipes.
With 150 dishes, there are already plenty to choose from, but author Dustin Harder goes a step further and shows a variation of every single one. This is hugely beneficial to chefs looking for alternative ways of preparing the same meal, and it is also fun to try to see which one turns out better.
With 110,000 miles traveled to food hotspots, Harder has perfected vegan mainstays, and his tutorials show simple, affordable ways to put dieting into action. Beans and greens have never delivered so much flavor, and your waistline will never look better.
VEGAN DIET FOR BEGINNER
(BOOK #7)
CLICK ON THE IMAGE ABOVE TO SEE WHAT IS INSIDE
A 4-week diet plan and 123 recipes make up the framework of the "Vegan Diet For Beginner," with no dairy and a spotlight on high protein consumption. This gluten-free accumulation of dishes supports low cholesterol and even grants you a shopping list to get you moving in the right direction of what foods to acquire.
Vegan Diet is intelligently presented to put you in favorable situations as the chef, as diet tips and ways to deal with cravings are covered with care. Furthermore, there is even a plan for eating out when you are unable to make the recipes in your kitchen.
Vegan Diet also discusses the history of the movement and why it is a solid path to wholesome living.
THE SUPER EASY VEGAN
(BOOK #8)
CLICK ON THE IMAGE ABOVE TO SEE WHAT IS INSIDE
Founder of a high traffic food blog, author Toni Okamoto also gives slow cooker preparation a shot with "The Super Easy Vegan." With an emphasis on a low stress, simplified kitchen, vegan dieting has never been displayed more fluently, with lentils and beans and miso dressing being just a couple of the highlights.
Corn salad and butternut squash soup fit any occasion, and with typically only 15 minutes of preparation time, they can be made over and over again with efficiency.
A huge plus in utilizing a slow cooker in following through on vegan diets is that it eliminates the mess in your workstation, with no need for numerous pots and pans creating clutter.
THE COMPLETE VEGETARIAN COOKBOOK
(BOOK #9)
CLICK ON THE IMAGE ABOVE TO SEE WHAT IS INSIDE
Packed to the brim with over 700 recipes, 250 of which exclusively vegan, "The Complete Vegetarian Cookbook" is likely the most extensive list of diet-conscious meals.
Over 300 of the recipes can be completed in less than 45 minutes, and placing rice and grains in the limelight ensures that people wanting to drop a few pounds can do so with assurance. This cookbook is also meticulously illustrated, with 500+ photos serving as visual tutorials, displaying examples of crafty techniques and skillful preparation.
Of particular interest is that "The Complete Vegetarian Cookbook" has dishes that are great for small or large crowds, so cooking for various group sizes is done in a snap.
NO MEAT ATHLETE COOKBOOK
(BOOK #10)
CLICK ON THE IMAGE ABOVE TO SEE WHAT IS INSIDE
Almond butter pancakes can start your day before exercising, and mango rice can end it with zest in the "No Meat Athlete Cookbook." This guide to creating healthy meals is an assortment of riches in numerous areas, with not only food being discussed, but getting in shape as well.
Dishes inside its pages focus entirely on fueling your body for workouts, with even a way to make your own homemade sports drinks!
Cucumber electrolyte refreshments are full of nutrients, and soy-free vegan delights support energy and weight loss. Naked samosa burgers top off 125 of the most creative recipes in this space, with even ramen getting a mention.
The fact that the "No Meat Athlete Cookbook" was derived from a yoga and health instructor makes its appeal that much larger and an unavoidable voice in vegan dieting.