Finding healthy snacks is no easy task, especially when you're always on the go.
But making smart snack choices will help you stay on the right track and prevent you from consuming too many calories.
Eating well doesn't have to be boring either. With just a little of inspiration you will discover that food that is good for your body does not have to taste dull. Here are 15 best that you will love enjoying.
Healthy Snacks on The Go
A) Sweet
1. Vanilla & Banana Smoothie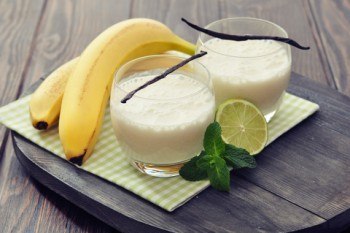 Vanilla and banana pair perfectly together in this delicious smoothie that will keep you energized even after a hard workout.
[You might enjoy: 6 Really Simple and Effective Ways to Lose Water Weight]
Unlike other smoothies, this recipe is incredibly simple and made with stuff you probably have in your kitchen already.
Ingredients
1 Cup Regular or Non-Dairy Milk (Soy, Almond, Coconut, Rice, Etc.)
2 Tsp. Vanilla Extract
1 Banana, Sliced
Note: Frozen fruit also work well!
Directions
Place all ingredients into a blender.
Blend.
Serve & enjoy.
2. Grilled Pineapple with Cinnamon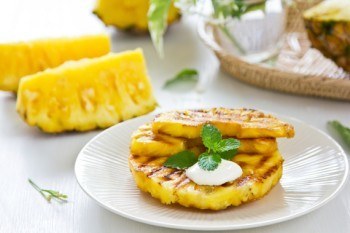 Grilling pineapple brings out its sweetness. This recipe pairs this hot delight with savory cinnamon for the ultimate afternoon treat.
Ingredients
1 Fresh Pineapple
1 Tbsp. of Ground Cinnamon (Preferably Ceylon)
2 Tbsp. Light Brown Sugar
Directions
Slice the pineapple into thick rings and set them aside.
In a medium-sized bowl, mix together the cinnamon and the brown sugar.
Sprinkle each side of each ring with the above mix.
Grill these for 5 minutes on each side.
Serve warm.
Extra advice! Because this is such a sweet fruit, you can omit the sugar if you wish. The snack will still be sweet and delicious.
3. Almonds & Dried Cranberries
Almonds are packed with protein, healthy fats and Vitamin E. Cranberries are a great source of antioxidants and promote proper bladder function.
[Make sure to read: Ultimate Companion to 30 Day Squat Challenge]
When paired together, these make the ultimate sweet and salty snack. Try this modified version of Sandra Lee's Spiced Cranberries and Almonds for a healthy but tasty snack.
Ingredients
3 Cups Almonds
2 Cups Dried Cranberries
1 Tsp. Ground Cinnamon
1/2 Tsp. Nutmeg
1/2 Tsp. Ground Clove
1 Tbs. Maple Syrup
1/4 Cup Coconut Oil
1/2 Cup Coconut Flakes (Unsweetened)
Directions
Preheat the oven to 350 degrees Fahrenheit.
Melt the coconut oil and maple syrup over medium heat.
Add the almonds, cinnamon, nutmeg, clove and coconut flakes to the mixture.
Stir to combine.
Spread the mixture on a greased cookie sheet and bake for 20 minutes.
Transfer to a bowl and serve cool.
4. Stuffed Figs with Goat Cheese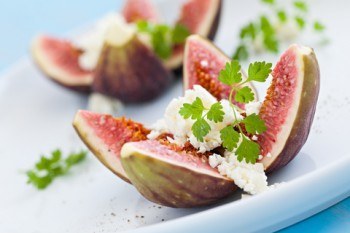 This is a winning pair in this simple recipe that calls for just a few ingredients. The sweetness of the figs melds awesomely with the creaminess and saltiness of the goat cheese.
Their portable size makes them the perfect snack for when you're on the go.
Ingredients
4 Ripe Figs
1/2 Tbs. Extra Virgin Olive Oil
1 & 1/2 Tbs. Honey
1/4 Cup Goat Cheese
1 Tbs. Fresh Rosemary, Finely Chopped
Directions
Preheat the oven to 400 degrees F.
Rub each fig with olive oil.
Create a 3/4 inch, X-shaped cut in the top of each.
Pry open its edges gently and stuff each one with 1 teaspoon of goat cheese.
Place them upright on a baking sheet and bake for 10 minutes.
Drizzle honey on top and enjoy.
5. Greek-Yogurt with Berries & Honey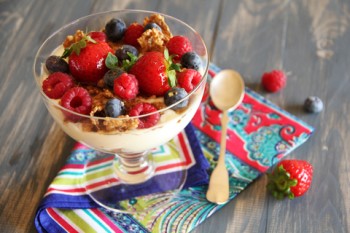 This on-the-go snack is so simple to make, yet so delightful.
Ingredients
1 Cup Plain Greek Yogurt
1/2 Cup Your Favorite Fresh Berries
1 Tbs. Honey
Directions
Mix a serving of plain Greek yogurt with your favorite fresh berries.
Add a drizzle of honey.
Mix well and enjoy.
Extra advice: Strawberries, blueberries, blackberries and raspberries are great choices.
These Are The MOST POPULAR Tips:
6. Apple with Peanut Butter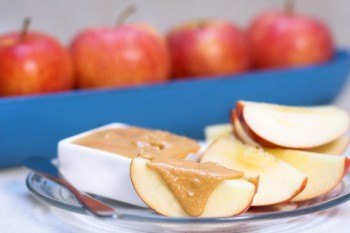 This combination is a classic kid-friendly snack that even adults love. It's the perfect mix of salty and sweet.
Ingredients
1 Apple
1 & 1/2 Tbs. Peanut Butter
Directions
Slice up a fresh, ripe apple.
Serve it with a tablespoon or two of peanut butter.
7. Hot Plums with Cinnamon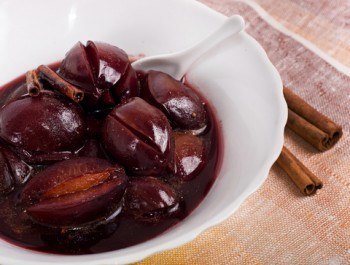 Just like peaches, plums are sweet and juicy; the perfect summer-time treat. When roasted and paired with cinnamon, you have a healthy, portable snack that tastes just like dessert.
Ingredients
6 Ripe Plums
2 Tsp. Ground Cinnamon
1 Tbs. Light Brown Sugar
Zest of One Lemon
Directions
Preheat the oven to 350 degrees F.
Cut each plum in half, and remove the pits.
Place the plums, skin-side down, in a baking dish.
Sprinkle with cinnamon, sugar and lemon zest.
Roast for 30 minutes and serve warm.
8. Oatmeal with Fresh Berries
This is not just for breakfast; it makes a great healthy afternoon snack too.
Ingredients
1 Cup of Oatmeal
1/2 Cup Favorite Berries
1/4 Cup Almonds
1 Tbs. Honey
Directions
Cook your oatmeal as you normally would.
Top it with fresh fruit.
Add almonds and honey.
Extra advice! Blueberries and raspberries pair well with nutty flavor of this meal.
9. Chocolate Covered Fresh Strawberries
Who said sweet stuff can't be healthy? Dark chocolate covered strawberries are a sweet indulgence that can be enjoyed anytime, anywhere. Dark is the healthiest choice.
Ingredients
16 Oz. Dark Chocolate
1 Pound of Fresh Strawberries
Directions
Using a double boiler, melt the chocolate. Stir occasionally until it is smooth.
Place a toothpick through the center of each strawberry.
Holding each strawberry by the toothpick, dip each one into the above mixture.
Turn the strawberries upside down and allow them to cool.
10. Orange with Cinnamon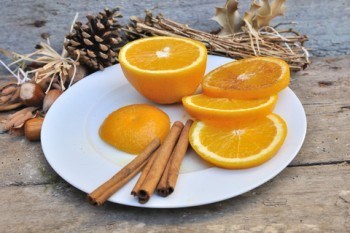 This snack is incredibly easy to make and perfect for a busy afternoon at the office.
Ingredients
1 Orange
1 Pinch Cinnamon
1 Pinch Brown Sugar
Directions
Simply peel and slice an orange into rings.
Sprinkle them with ground cinnamon and just a pinch of sugar.
B) Salty
11. Turkey Jerky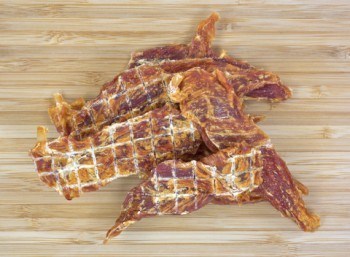 Turkey is a healthy alternative to beef jerky and surprisingly easy to make at home.
In fact, you don't even need a dehydrator to make your own tasty jerky.
Mark's Daily Apple has a great recipe and instructions on how you can make your own turkey jerky in your oven.
12. Sliced Mozzarella & Tomatoes with Fresh Basil & Olive Oil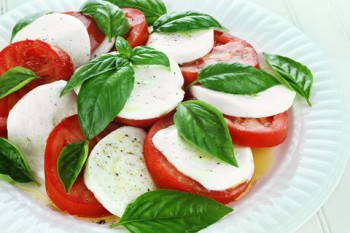 This Mediterranean-inspired snack is the perfect treat for a summer afternoon.
Ingredients
4 Oz. Mozzarella Cheese
8 Ripe Roma Tomatoes
5 Leafs of Fresh Basil
1 Tbs. Extra Virgin Olive Oil
Directions
Simply slice up some mozzarella cheese (choose skim-milk one if you're trying to cut back on fat) and ripe tomatoes (Roma are excellent).
Top with ribbons of fresh basil and a drizzle of extra virgin olive oil.
Additional advice: If you cannot find fresh one, dried will work in a pinch.
[This one is worth your time: Top 22 High Protein Foods That Will Banish Your Hunger]
13. Roasted & Salted Almonds
Another simple and tasty snack is roasted and salted almonds.
Ingredients
1 Cup Almonds
1 Tbs. Coconut Oil
1 Pinch of Sea Salt
Directions
Mix a cup of almonds with a tablespoon of coconut oil.
Roast it at 350 degrees F for 10 to 12 minutes.
Sprinkle with sea salt.
Allow them to cool and enjoy.
14. Baked Potato Chips with Rosemary & Garlic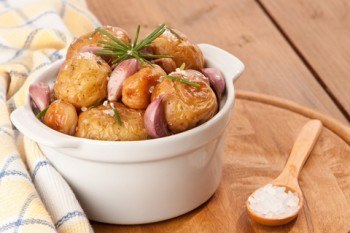 These are surprisingly easy to make at home, but you will need a mandolin or a food processor to get thin slices.
Ingredients
1 Russet Potato
1 Tbs. of Virgin Olive Oil
1 Dash of Salt
1 Tsp. of Dried Garlic
1 Tsp. of Rosemary
Directions
Simply peel and slice one russet potato.
Toss it with extra virgin olive oil, a dash of salt and a teaspoon of dried garlic.
Arrange the slices on a baking sheet and bake for 15 – 20 minutes at 375 degrees F.
Sprinkle the cooked chips with a teaspoon of either fresh or dried rosemary.
15. Baked Spicy Kale Chips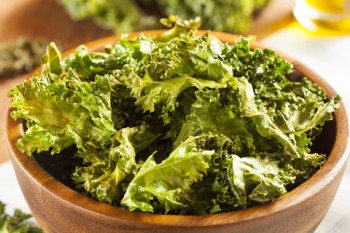 These chips are a delicious yet incredibly healthy snack ideal even for parties.
Ingredients
1 Bunch of Kale
1 Pinch of Sea Salt
1 Pinch of Red Pepper
1 Tbs. of Olive Oil
Directions
Take one bunch of kale and carefully remove the leaves from the stems. Tear into bite-sized pieces.
Wash and dry it. Use a salad spinner if you have one.
Drizzle these chips with olive oil, a pinch of sea salt and crushed red pepper.
Bake for 8-10 minutes at 350 degrees F.
2 Awesome Snack Apps
Looking for more healthy treats on-the-go? These apps can help you find the perfect recipes to satisfy your afternoon cravings.
The Snack App – This application was created by the experts at EverydayHealth.com. What is more, it helps you find snacks according to calorie counts and craving type, such as salty, sweet, cheesy or creamy. There's also a "Surprise Me" category for those moments when you just don't know what you're craving. Aside from instructions, the app also provides helpful tips for making healthy choices and ideas for burning calories.
Healthy Snack Recipes – This one shares with you hundreds of great recipes and nutritional information. This application also provides helpful YouTube videos for these. You will find directions for tasty stuff like cheesy popcorn, cottage cheese veggie dip, chocolate crunch and even indoor s'mores. Now you can indulge in your favorite foods without feeling guilty.
Other Great Resources & Recipes for Snacks
2 Cookbooks
Healthy Snacks For Work by Daniel Amos – This eBook offers affordable and super simple directions for guilt-free treats you can bring to work. Not only are these easy to fix, but they're loaded with essential nutrients that will keep you energized throughout the day. These are the 3PM pick-me-up you need.
Super Healthy Snacks & Treats by Jenna Zoe – Packed with more than 60 easy recipes, this cookbook is the ultimate guide to guilt-free snacking. Inside you'll find stuff that will energize you and satisfy your cravings. These include gluten-free, dairy-free, sugar-free and egg-free options.
2 Websites
Cooking Light – CookingLight.com is a great source for healthy but creative ideas. You'll find instructions for hummus, peanut butter chocolate dipped pretzels and even chewy caramel apple cookies. The best part is that all of these delicious snacks are easy to make and good for your body.
Taste of Home – TasteofHome.com offers plenty of awesome things to satisfy your salty cravings. Each one includes nutritional information and reviews from others who have tried each treat. Try the Cajun Popcorn or Spicy Almonds.