Peppermint tea is one of the healthiest teas you can drink and it offers many proven benefits. There are people who would love to enjoy its benefits and drink this tea right before the bedtime.
That is why they often ask me this question.
"IS THERE CAFFEINE IN PEPPERMINT TEA?"
Luckily, peppermint tea does not contain any caffeine in it. Actually, this tea is a perfect beverage to drink before going to bed as it will help you to relax and provides relief from day-to-day stress.
Although it does not contain caffeine in it, pregnant and breastfeeding women, as well as those suffering from acid reflux, should rather avoid this drink.
Before you go and prepare your cup of tea, learn how to do it correctly thanks to our guide below to fully harness its health benefits.
HEALTH BENEFITS OF PEPPERMINT TEA
If you prepare your cup correctly, then you should be able to enjoy its many benefits for your body, as peppermint tea:
Provides relief from cold & flu symptoms
Provides relief from stress
Calms your stomach
Is a good source of antioxidants
Promotes digestion
Supports your liver & gallbladder
Helps with constipation
Helps with bad breath
Provides relief from menstrual symptoms
Reduces a migraine & headache
Fights bacteria, fungi & viruses
Helps with weight loss
Improves mental focus & concentration
If you want to learn more about individual health benefits mentioned above, I have written a great article that focuses on individual peppermint tea research studies and is available here.
CONTRAINDICATIONS, WARNINGS & SIDE EFFECTS YOU NEED TO KNOW ABOUT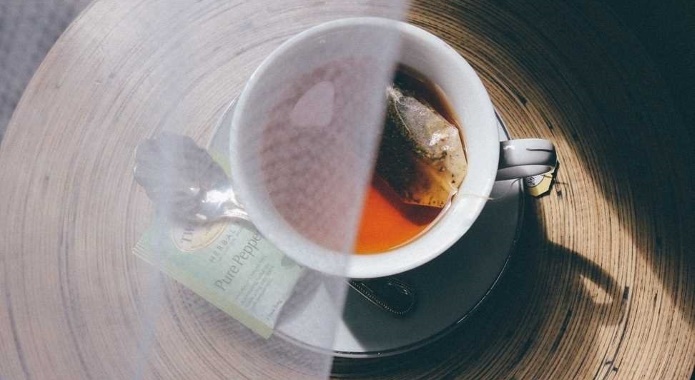 Are you worried about overdosing on peppermint? Luckily, studies have not found peppermint to provide any real dangers to a person. There are some issues that might be caused by drinking too much of this tea, click here for more details. The only exception is when you take incredibly large amounts!
Digging through research, most studies say that this hot beverage may cause problems when consumed in high dosages, but none really says what would occur.
However, a few precautions are seen with:
Infants & small children – Do not give peppermint tea to infants or small children. The aromatic oil from peppermint can cause serious breathing problems.
Pregnancy – While this tea itself is safe, there may be a potential risk to the fetus when drank in massive quantities. Typical consumption is deemed okay in this case, but extra large amounts have not been studied.
Allergy – The most common danger may be an allergic reaction. If you know you have an allergy to this plant, do not consume it! This is valid for beverages made from this plant as well.
Acid reflux – People with acid reflux should not drink peppermint tea, because it may have a numbing effect on the sphincter between the esophagus and stomach, allowing the acid to rise.
May interact with medications – According to a reputable online source called WebMD.com, peppermint can interact with a lot of medications, such as cyclosporine, medications changed by the liver, antacids, H2-Blockers & Proton pump inhibitors.
Too strong for infant & babies – This plant is considered too strong for infants and babies by many medical experts. There are indications that the aromatic oil from peppermint can cause serious breathing problems to infants. Also, it could cause burning sensations in their mouths.
Lowers blood sugar levels – If you have a tendency to have lower blood sugar (hypoglycemia), or you are suffering from diabetes, pay attention as there are some indications that peppermint can worsen this condition.
Possible contamination – As far as I am concerned there are no tests by the FDA before a tea enters the market. That is why there is no guarantee that the peppermint tea you are consuming is free from any contamination by pesticides, heavy metals, and other toxins.
As always, you'll want to consume a reasonable amount (2-3 cups a day) to be safe and avoid most side effects of peppermint tea. However, I believe that you would have a difficult time experiencing any negatives from this drink itself.
So, the only question is "why aren't you drinking more peppermint tea?"