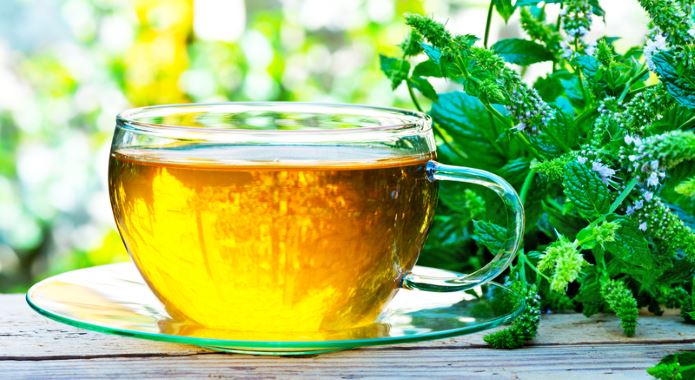 Peppermint tea is an infusion made from peppermint leaves and can be consumed either as a hot beverage or a cold lemonade. The scientific name of peppermint is Mentha Piperita and it is one of the most popular teas in the world.
Benefits of mint tea are truly remarkable and include calming your stomach, helping with bad breath, promoting bowel movements and easing flu and cold symptoms (I recommend you to read more about benefits of peppermint tea here).
The best part?
Peppermint is caffeine free so you don't have to worry about it interfering with your sleep time. However, this tea comes with some side-effects that could endanger your health. Therefore, I feel obliged to present you as much info on these as possible.
Just keep in mind that I am no medical expert and although I have done a substantial research on this topic this list may not cover every aspect. So do your research as well as it is your health you might be putting at risk.
CAUSES ISSUES WITH SOME MEDICATIONS
(SIDE-EFFECT #1)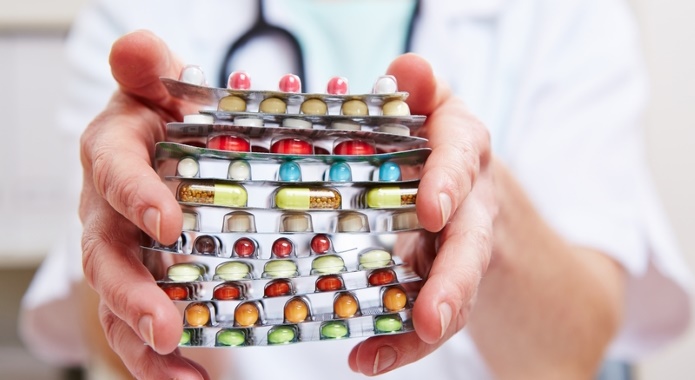 One of the most serious side effects you should know about is the fact that peppermint can interact with a lot of medications you might use on daily basis. I am no medical experts so I have collected this information from a reputable online source called WebMD.com.
According to this website, peppermint might interact with:
Cyclosporine (Neoral, Sandimmune) – Peppermint oil products might increase the risk of side effects for cyclosporine
Medications changed by the liver (CYP1A2), (CYP2C19), (CYP2C9) & (CYP3A4) – Taking peppermint oil along with medications that are broken down by the liver can increase their effects and side effects
Antacids, H2-Blockers & Proton pump inhibitors – Some peppermint oil products are covered with a special coating that dissolves only in a non-acid environment (antacids are used to decrease stomach acid – low stomach acid can cause the coating of these peppermint oil products to dissolve too quickly)
As you can see, peppermint interacts with many medications. Therefore, it's important that you consult drinking mint tea with your doctor in case you take any meds (especially those for a reduction of stomach acid, used to treat diabetes, blood pressure medications and cyclosporine).
MIGHT CAUSE ALLERGIC REACTIONS
(SIDE-EFFECT #2)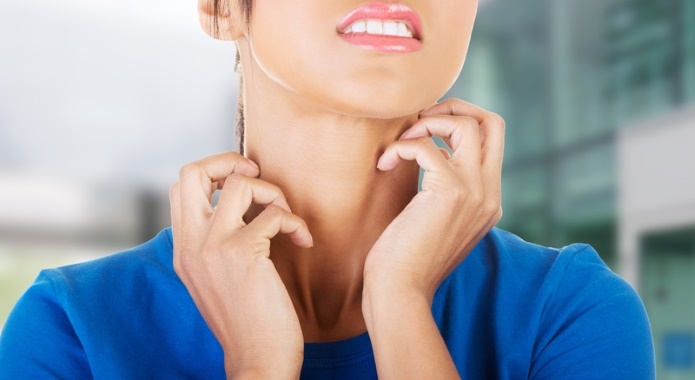 Almost each and every plant around the world can in some specific cases cause allergic reactions, even peppermint. That is why you need to pay attention whether or not your body is showing you some of these signs of allergic reaction:
Skin: Irritation, inflammation, mouth sores, contact dermatitis, flushing, and swelling
Lungs: Inflammation, shortness of breath, wheezing, coughing, chest pain, and difficulty breathing
Sinuses: Swelling, sinus headache, facial pressure, runny nose, congestion, and postnasal drip
Digestion: Nausea, diarrhea, vomiting, and stomach cramping
You need to keep in mind that there are many forms of allergic reactions to peppermint and depending on the type you have, your symptoms and their severity may vary. Also, if you suffer from asthma, your breathing problems may be aggravated.
As soon as you notice any of the symptoms above, stop drinking this tea and seek out consultation with your medical professional.
In extreme cases, you can develop anaphylaxis, an extreme form of allergic reaction that causes the immune system to affect the entire body (fainting, pale skin, swelling in your lips, face or tongue, an increased heart rate, a sudden drop in blood pressure and dizziness). If this is the case, seek out medical help immediately.
MIGHT WORSEN GERD DISEASE
(SIDE-EFFECT #3)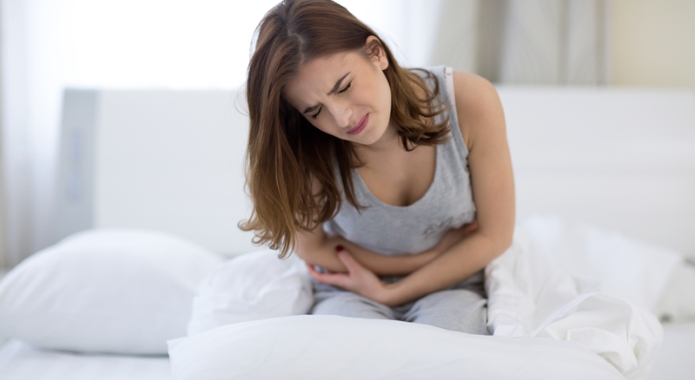 WebMD defines GERD (gastroesophageal reflux disease) as a digestive disorder affecting the ring of muscles (sphincter) between your esophagus and stomach. In this disorder, stomach acids can flow back into your esophagus causing heartburn and irritation.
Sadly, mint tea can aggravate these symptoms as the consumption of mint helps relax your stomach muscles, including your sphincter muscle.
Although experts do not recommend it for alleviating GERD, I have found one study conducted by experts from Ain Shams University to claim the opposite:
"The study concluded that use of carminatives as peppermint tea, beside compliance to lifestyle measures are effective on relieving GERD Grade 1 (NERD) during pregnancy. The study recommended using of peppermint tea in-between meals for relieving of GERD during early stages of pregnancy. Further studies are still needed to determine the effect of using peppermint in different forms on relieving GERD during pregnancy."
As you can see, even the scientific community is not 100% sure about whether peppermint plant can help you with reflux. So, although peppermint tea may be a good help for you if you suffer from IBS, my advice is to rather stay away from it if you feel like having issues with heartburn.
MIGHT CAUSE MISCARRIAGE
(SIDE-EFFECT #4)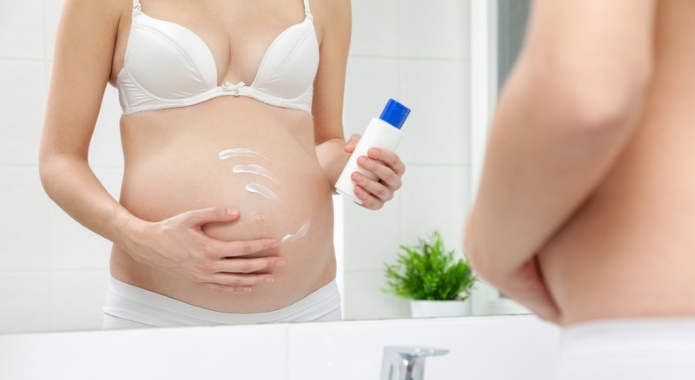 I bet that you would never have guessed that peppermint can cause miscarriage. Sadly, it is the truth. Peppermint oils in the mint plant can have emmenagogue effects on your body.
This means that they may stimulate the blood flow into your uterine area, cause mild contraction of your uterus and stimulate menstruation. All this can lead to an increased risk of miscarriage. Even a study published by Oman Medical Journal points out this fact:
"A high incidence of threaten miscarriages and preterm labor have been reported with the use of chamomile and licorice during pregnancy. In a review on the herbs used for morning sickness, chamomile and peppermint were reported as unsafe in 6% of studies and ginger and raspberry leaf were cited as unsafe in 12% and 15% of the studies, respectively. Excess use of peppermint is contraindicated in early pregnancy due to its emmenagogue effects."
Although peppermint tea does not include a high concentration of peppermint when compared to its oils, it is still better to avoid it unless your doctor approves it. Better be safe than sorry.
Although normal consumption of this tea should be fine, if you have a past medical history of miscarriages or you are breastfeeding, just stay away from peppermint altogether. It is not worth the risk.
TOO STRONG FOR INFANTS & BABIES
(SIDE-EFFECT #5)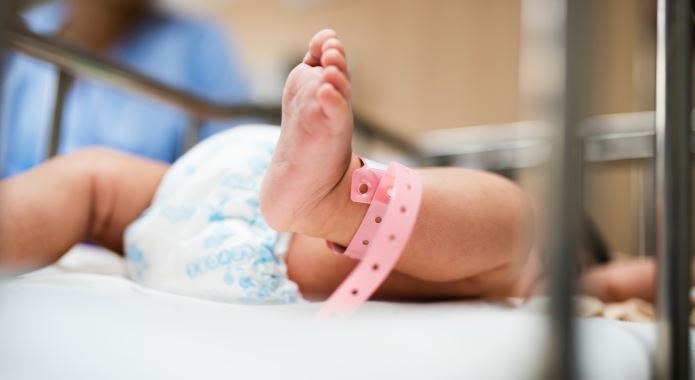 Although some people recommend giving infants mild herbal teas to provide relief to various ailments, this is very dangerous especially with regards to peppermint. This plant is considered too strong for infants and babies by many medical experts.
There are indications that the aromatic oil from peppermint can cause serious breathing problems to infants. Also, it could cause burning sensations in their mouths.
Also, there is the issue of over-consumption of water (also known as water poisoning).
To make things even worse, some peppermint teas can include a very toxic substance called pennyroyal oil. This can be deadly to infants and babies according to a report published in Pediatrics:
"Pennyroyal oil is a highly toxic agent that may cause both hepatic and neurologic injury if ingested. A potential source of pennyroyal oil is certain mint teas mistakenly used as home remedies to treat minor ailments and colic in infants. Physicians should consider pennyroyal oil poisoning as a possible cause of hepatic and neurologic injury in infants, particularly if the infants may have been given home-brewed mint teas."
Just keep in mind that before your child is over six months of age, he or she does not need to consume any supplemental water. All of the liquid needs of your child are covered by their regular consumption of breast milk or formula.
Tea should only be introduced to your child when he or she is old enough and after you first consultation with your child's doctor. Breastfeeding mothers should also avoid peppermint tea.
LOWERS BLOOD SUGAR LEVELS
(SIDE-EFFECT #6)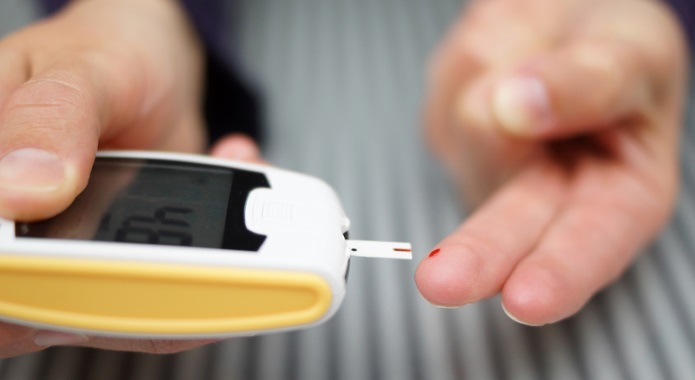 Managing your blood sugar is necessary if you want to lose weight and fight food cravings. Many of us have higher blood sugar than necessary due to our sugary diets. Luckily, there is peppermint tea that can help us to lower it down.
That is a benefit. However, if you have a tendency to have lower blood sugar (hypoglycemia), or you are suffering from diabetes, pay attention.
A research study published by Evidence-Based Complementary and Alternative Medicine concluded that:
"The offspring from diabetic dams treated with peppermint showed significantly reduced levels of glucose, cholesterol, LDL-c, and triglycerides and a significant increase in HDL-c levels. The use of the M. piperita juice has potential as a culturally appropriate strategy to aid in the prevention of DM, dyslipidemia, and its complications."
However, it is worth pointing out that this happened in laboratory conditions (studied on rats) and I was not able to locate a research study dealing with effects of peppermint on lowering the blood sugar levels in humans.
Just take care in case you are taking any drugs for diabetes and consult consumption of peppermint tea with your medical professional. Again, rather be safe than sorry.
BAD FOR THOSE WITH STOMACH ULCERS
(SIDE-EFFECT #7)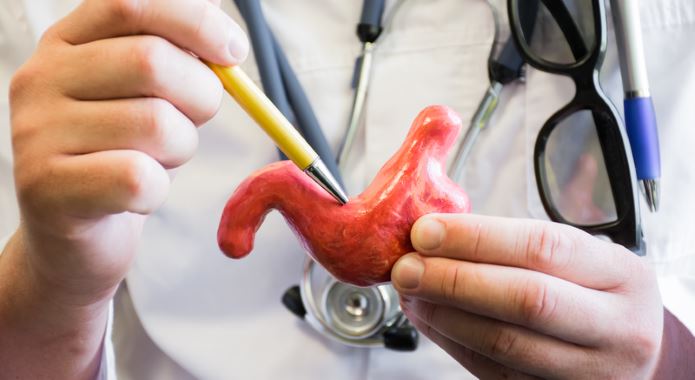 Stomach ulcers (also called peptic ulcers) are painful, open, crater-like sores that can develop on the lining of the stomach, small intestine, and esophagus. These are often caused by a bacterium called Helicobacter pylori (H. pylori), excess stomach acids, and long-term use of anti-inflammatory drugs.
I have been looking through research studies analyzing the relationship between peppermint tea and various stomach ulcers and I have to say that I have found some conflicting information.
According to the popular website LiveStrong.com, peppermint is not recommended in case you suffer from ulcers. However, a research study published by World Journal of Gastrointestinal Oncology points out the opposite effect of peppermint:
"Various extracts of Mentha arvensis Linn. 375 mg/kg body weight clearly shows a protective effect against acid secretion and gastric ulcers in ibuprofen plus pyloric ligation, 0.6 mol/L HCl induced and 90% ethanol-induced ulcer models."
As you could see, that study was conducted on rats and I was not able to find any study that would be conducted on humans. However, people around the world recommend avoiding peppermint if you suffer from stomach ulcers as menthol can aggravate the ulcer and cause further damage.
Obviously, the tea does not include such concentrated amounts of menthol as peppermint oil, but you should still be cautious with it.
POSSIBLE CONTAMINATION
(SIDE-EFFECT #8)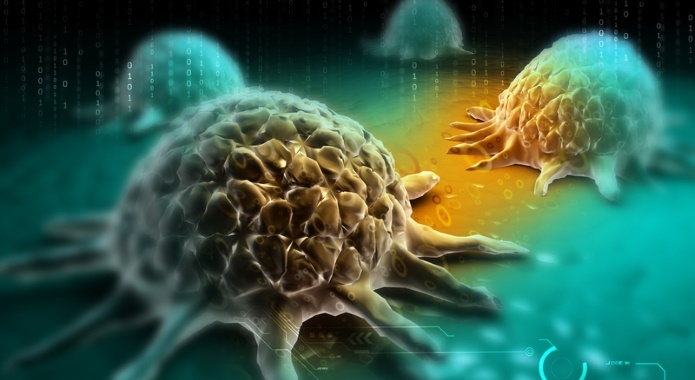 Did you know that any herbal tea might be contaminated by toxic substances and heavy metals? This surprised me as well. Sadly, the Food and Drug Administration (FDA) does not give license for the production of herbal supplements and tea.
As far as I am concerned there are no tests by the FDA before a tea enters the market.
That is why there is no guarantee that the peppermint tea you are consuming is free from any contamination by pesticides, heavy metals, and other toxins. According to Womansday.com, there have been conducted several studies confirming this sad fact:
"In a 2013 study from the Journal of Toxicology, researchers tested 30 teas and found that all had high amounts of lead—which can cause heart, kidney and reproductive problems. Around 73% of teas brewed for three minutes, and 83% percent of those brewed for 15 minutes, had potentially unsafe amounts, and 20 percent of teas brewed for 15 minutes contained unsafe aluminum levels."
"According to research published in 2013, fluoride levels in economy teas exceeded daily recommended levels and had three times the amount of more expensive varieties. […] Consuming too much fluoride can damage teeth, bones, and joints, and we absorb even more of it when fasting."
"A November 2015 study from the journal Food Chemistry analyzed 44 samples of herbal teas intended for babies and pregnant and breastfeeding women. They found that 38 of them–86 percent!–tested positive for pyrrolizidine alkaloids, toxins produced by some flowering plants that can cause liver damage."
As you can see, there are many potential contaminants you could face. So do not brew your tea for a long time and always purchase from the most reputable and trusted manufacturers.
CONTRAINDICATIONS & WARNINGS YOU NEED TO KNOW ABOUT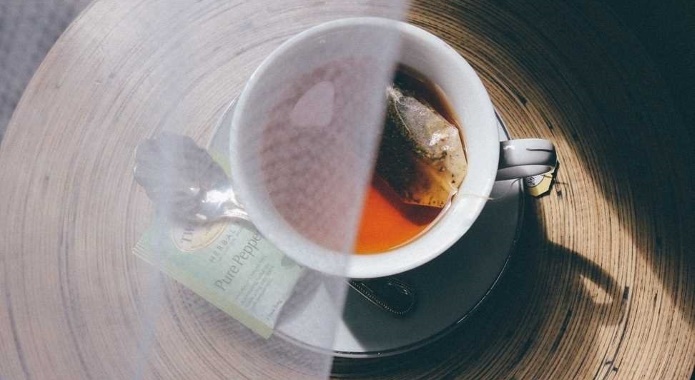 Are you worried about overdosing on peppermint? Can you drink too much peppermint tea? Let's find out.
Luckily, studies have not found peppermint to provide any real dangers to a person. There are some issues that might be caused by drinking too much of this tea, click here for more details. The only exception is when you take incredibly large amounts!
Digging through research, most studies say that this hot beverage may cause problems when consumed in high dosages, but none really says what would occur.
However, a few precautions are seen with:
Infants & small children – Do not give peppermint tea to infants or small children. The aromatic oil from peppermint can cause serious breathing problems.
Pregnancy – While this tea itself is safe, there may be a potential risk to the fetus when drank in massive quantities. Typical consumption is deemed okay in this case, but extra large amounts have not been studied.
Allergy – The most common danger may be an allergic reaction. If you know you have an allergy to this plant, do not consume it! This is valid for beverages made from this plant as well.
Acid reflux – People with acid reflux should not drink peppermint tea, because it may have a numbing effect on the sphincter between the esophagus and stomach, allowing the acid to rise.
As always, you'll want to consume a reasonable amount (2-3 cups a day) to be safe. However, I believe that you would have a difficult time experiencing any negatives from this drink itself.
So, the only question is "why aren't you drinking more peppermint tea?"