Losing weight is not a simple thing to do. Lots of people believe that joining a sport may help increase their caloric expenditure and in this way, they expect to shed that stubborn belly fat.
Luckily, you will discover the best individual and team sports for improved weight loss in the following paragraphs.
Just keep in mind that your main motivation to join a sport should not be to lose weight but to have a lot of fun. Only if a sport motivates you to continue you will be able to improve your skills and lose a significant amount of weight over time.
LIST OF INDIVIDUAL SPORTS & CALORIES BURNED
| # | SPORT (1 HOUR) | CALORIES BURNED PER 160 LBS PERSON |
| --- | --- | --- |
| 1. | Kickboxing | 763 |
| 2. | Rollerblading (Moderate Pace) | 748 |
| 3. | Taekwondo (Martial Arts) | 732 |
| 4. | Cross-Country Skiing (Moderate Speed & Effort) | 687 |
| 5. | Ice Skating | 687 |
| 6. | Running (Cross-Country) | 687 |
| 7. | Boxing (Sparring) | 596 |
| 8. | Cycling | 573 |
| 9. | Squash (General) | 557 |
| 10. | Tennis (General) | 557 |
| 11. | Alpine Skiing / Downhill Skiing | 535 |
| 12. | Badminton (Competitive) | 535 |
| 13. | Racquetball (General) | 535 |
| 14. | Speed Walking | 496 |
| 15. | Snowboarding | 459 |
| 16. | Wrestling | 458 |
| 17. | Rock Climbing | 443 |
| 18. | Rowing (Moderate Effort) | 443 |
| 19. | Water Skiing | 435 |
| 20. | Fencing | 408 |
| 21. | Swimming (Breaststroke - Recreational) | 405 |
| 22. | Surfing (Competitive) | 382 |
| 23. | Golf | 367 |
| 24. | Archery | 328 |
| 25. | Table Tennis | 305 |
| 26. | Bowling | 298 |
TOP 10 INDIVIDUAL SPORTS TO LOSE WEIGHT
#1. KICKBOXING
763 CALORIES / HOUR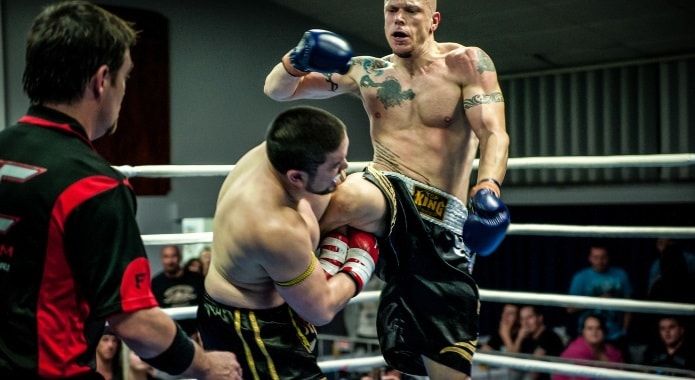 Kickboxing is a group of stand-up combat sports based on kicking and punching, historically developed from karate mixed with boxing. This sport has a number of different rulesets.
For example, American kickboxing and/or American full contact karate restricts to strikes using punches and higher kicks; whereas some other arts often regarded as "kickboxing" allow low kicks and even knee strikes, elbows, and grappling maneuvers.
As you can see, kickboxing is a tough sport and you have a high chance of getting injured. However, this sport is perfect for those who want to burn many calories quickly. Actually, you can get rid of almost 800 calories per hour!
Not only that, you will reduce a lot of stress, boost your confidence and self-esteem, improve your coordination, promote your posture, and boost your energy levels.
#2. ROLLERBLADING (MODERATE PACE)
748 CALORIES / HOUR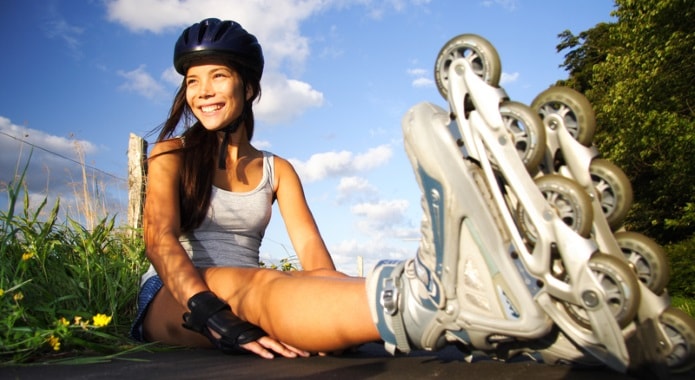 Inline skating (also known as "rollerblading") is a multi-disciplinary sport practiced widely internationally. Inline skates typically have 2 to 5 polyurethane wheels, arranged in a single line by a metal or plastic frame on the underside of a boot.
The in-line design allows for greater speed than roller skates and better maneuverability.
This individual sport, when exercised under high-intensity, will allow you to burn a significant amount of calories. Actually, you can burn over 700 calories per hour!
Not only that, this high-intensity, low-impact cardio exercise will tone and strengthen your legs, improve your endurance, boost your stamina, and provide a lot of fun.
#3. TAEKWONDO
732 CALORIES / HOUR
Taekwondo is a Korean martial art, characterized by its emphasis on head-height kicks, jumping and spinning kicks, and fast kicking techniques. To facilitate fast, turning kicks, taekwondo generally adopts stances that are narrower and taller than the broader, wide stances used by martial arts such as karate.
If you are looking for a martial art that will help you lose a lot of weight fast, then go for Taekwondo.
This form of sport focuses on your whole body. Your whole figure will tone up and your arms, legs, back, and core will become much stronger. Although you may not gain a lot of muscle mass, your physical endurance and agility will improve significantly.
The best part? You will learn a way to defend yourself and others in dangerous situations where you may be exposed to a violence from other person.
#4. CROSS-COUNTRY SKIING
687 CALORIES / HOUR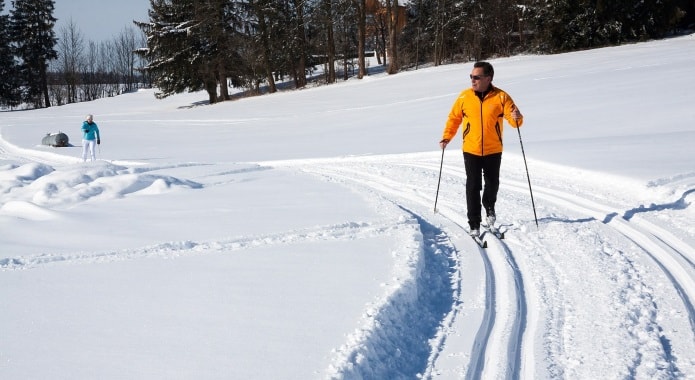 Cross-country skiing is a form of skiing where skiers rely on their own locomotion to move across the snow-covered terrain, rather than using ski lifts or other forms of assistance. Cross-country skiing is widely practiced as a sport and recreational activity; however, some still use it as a means of transportation.
Thanks to cross-country skiing, you will burn almost 700 calories per hour depending on your intensity. So, if you are looking for an individual winter-sport that will help you to lose some weight, then look no further.
Not only will you do a lot of cardio outside on the fresh air, you will improve both the look and strength of your legs. Not only that, this whole-body workout will boost your stamina, reduce day-to-day stress, and help you to connect more with nature.
#5. ICE-SKATING
687 CALORIES / HOUR
Ice skating is the act of motion by the wearer of the ice skates to propel the participant across a sheet of ice. This sport occurs both on specially prepared ice surfaces (arenas, tracks, parks), both indoors and outdoors, as well as on naturally occurring bodies of frozen water, such as ponds, lakes, and rivers.
Want to boost your legs and burn a lot of calories at the same time?
Then start ice skating! Not only will your butt and legs tone up, you will also gain better balance and stability. If this is not enough to persuade you to start ice-skating, then I have to tell you that this sport helps to improve your joints and their flexibility, boost your endurance, and reduce a lot of day-to-day stress as well.
#6. RUNNING (CROSS-COUNTRY)
687 CALORIES / HOUR
Cross country running is a sport in which teams and individuals run a race on open-air courses over natural terrains such as dirt or grass. The course, typically 4–12 kilometers (2.5–7.5 mi) long, may include surfaces of grass, and earth, pass through woodlands and open country and include hills, flat ground and sometimes gravel road.
It is both an individual and a team sport; runners are judged on individual times and teams by a points-scoring method.
Running over different types of terrain and slopes is excellent to burn body fat and excess calories. This most common form of cardio exercise improves your cardiovascular system, promotes your physical endurance and stamina, tones your legs, and significantly reduces your appetite.
#7. BOXING (SPARRING)
596 CALORIES / HOUR
Boxing is a combat sport in which two people, usually wearing protective gloves, throw punches at each other for a predetermined set of time in a boxing ring. Boxing is supervised by a referee over a series of one- to three-minute intervals called rounds.
Trust me, thanks to boxing, your body will burn an incredible amount of calories.
You will sweat a lot, you will have a hard time catching a breath, and most importantly, you will feel awesome! Learning to fight will significantly improve your self-esteem.
Not only that, you will improve your physical endurance, tone your core, arms, and legs, as well as significantly reduce your stress levels. Did you know that stress is the main cause of overeating?
#8. CYCLING
573 CALORIES / HOUR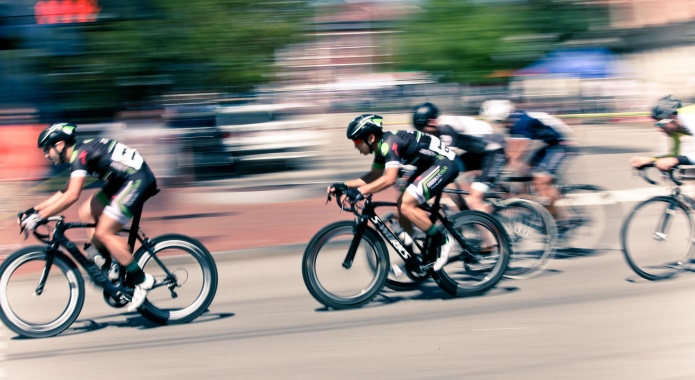 Cycle sport is competitive physical activity using bicycles. There are several categories of bicycle racing including road bicycle racing, time trialing, cyclo-cross, mountain bike racing, track cycling, BMX, and cycle speedway.
Riding a bike competitively can result in your body burning a lot of calories.
Not only that, you will mostly exercise your legs. So, if you want to improve their look and tone them up, go for cycling. This way, you will do a lot of cardio exercises and improve the health of your cardiovascular system.
#9. SQUASH (GENERAL)
557 CALORIES / HOUR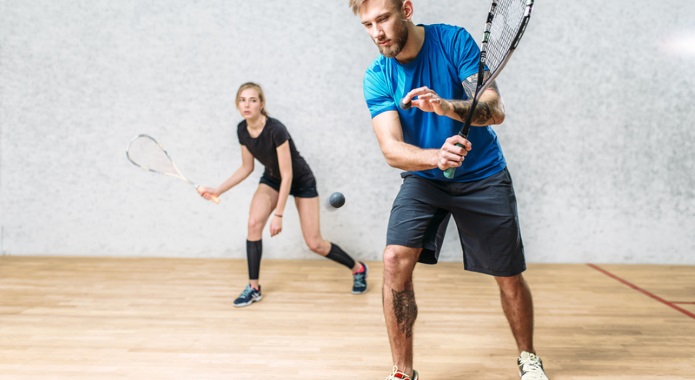 Squash is a ball sport played by two (singles) or four players (doubles squash) in a four-walled court with a small, hollow rubber ball. The players must alternate in striking the ball with their racket and hit the ball onto the playable surfaces of the four walls of the court.
Playing squash is not as easy as it may sound. You will do a lot of cardio and will sweat a lot. Thanks to this, you will burn a lot of calories. Not only that, you will be able to tone up your arms as well as legs!
#10. TENNIS (GENERAL)
557 CALORIES / HOUR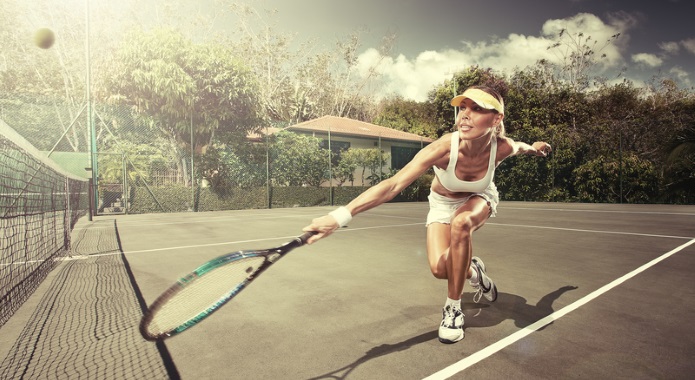 Tennis is a racket sport that can be played individually against a single opponent (singles) or between two teams of two players each (doubles). Each player uses a tennis racket that is strung with cord to strike a hollow rubber ball covered with felt over or around a net and into the opponent's court.
Although all this may sound quite easy, trust me when I say it is not!
Although you may not burn as many calories as during other individual sports, you will really get a lot of cardio exercise leading to increased aerobic capacities. Also, the density of your bones will increase and your muscles overall will get stronger and more toned.
This way, you will get a better metabolism and skinnier body.
LIST OF TEAM SPORTS & CALORIES BURNED
| # | SPORT (1 HOUR) | CALORIES BURNED PER 160 LBS PERSON |
| --- | --- | --- |
| 1. | Handball | 916 |
| 2. | Water Polo | 720 |
| 3. | Rugby / American Football | 634 |
| 4. | Basketball / Streetball (Game) | 611 |
| 5. | Beach Volleyball | 611 |
| 6. | Flag Football | 611 |
| 7. | Ice Hockey | 611 |
| 8. | Lacrosse | 611 |
| 9. | Soccer | 535 |
| 10. | Kickball | 504 |
| 11. | Floorball | 457 |
| 12. | Baseball / Softball | 382 |
| 13. | Cricket | 367 |
| 14. | Volleyball | 305 |
| 15. | Curling | 218 |
TOP 10 TEAM SPORTS TO LOSE WEIGHT
#1. HANDBALL
916 CALORIES / HOUR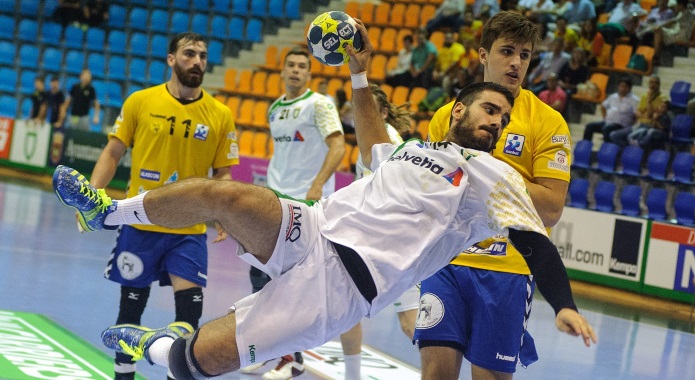 Handball is one of the top team sports if you want to burn a lot of calories. In this game, there are two teams of seven players each passing a ball using their hands with the aim of throwing it into the goal of the other team.
A standard match consists of two periods of 30 minutes, and the team that scores more goals wins.
Keep in mind that handball is extremely demanding sport that will greatly improve your physique. You will strengthen your whole body, including arms, legs, core, and back. Also, you will learn to coordinate both your legs and arms.
Just keep in mind that this team sport provides for a lot of physical contacts and many opportunities for minor injuries. Did I mention that there is absolutely no protective equipment worn while playing?
#2. RUGBY / AMERICAN FOOTBALL
634 CALORIES / HOUR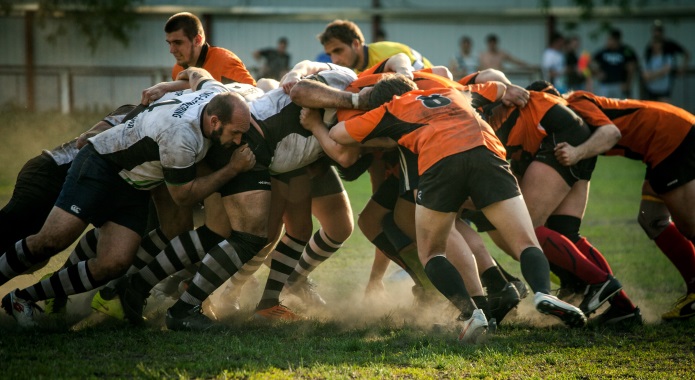 Rugby is one of the team sports that are so intense, that you will burn a significant amount of calories. This sport is very physically demanding and players should be physically and mentally prepared and understand how to play safely.
However, rugby is an excellent sport to build strength, improve flexibility, increase a density of your bones, get rid of day-to-day stress, and to develop endurance. As your strength and endurance will grow, so will the number of calories you will be able to burn per hour of playing this sport.
Just keep in mind that this sport can be dangerous and provides a lot of opportunities for minor injuries as there is a lot of physical contact.
#3. BASKETBALL / STREETBALL (GAME)
611 CALORIES / HOUR
Basketball is another team sport played on a rectangular court. While most often played as a team sport with five players on each side, three-on-three, two-on-two, and one-on-one competitions are also common.
Trust me that during this sport, you will often run and do a lot of cardio exercises that will boost your vitality and endurance. Not only that, you will boost your bone strength, improve your immune system, reduce stress, develop better motor and coordination skills, as well as tone your body and lose weight.
#4. BEACH VOLLEYBALL
611 CALORIES / HOUR
Beach volleyball is a team sport played by two teams of two players on a sand court divided by a net. As in indoor volleyball, the objective of the game is to send the ball over the net and to ground it on the opponent's court, and to prevent the same effort by the opponent.
While playing beach volleyball you will experience a significant sun exposure, hence your body will create a lot of vitamin D. Not only that, you will exercise on fresh air. Although you will not burn as many calories by regular volleyball, the one played on sand is much more intense.
This way, you will get enough cardiovascular exercise to improve your endurance and heart health. Also, you will boost your agility, the flexibility of your feet and hands, as well as promote your stability and balance.
#5. FLAG FOOTBALL
611 CALORIES / HOUR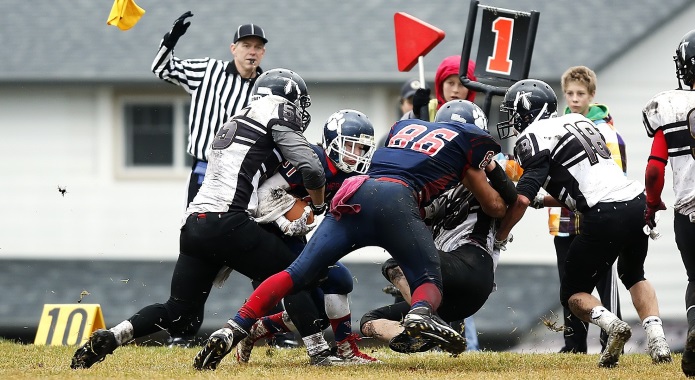 Flag football is a special version of typical American football that is much safer and less violent. Although the basic rules of the game are similar to those of the mainstream game, instead of tackling players to the ground, the defensive team must remove a flag or flag belt from the ball carrier ("deflagging") to end a down.
The contact between players is not permitted (it will result in a penalty for the team that initiates it) and this makes this sport a much safer alternative for men, women, as well as kids.
While playing flag football, you alternate between various motions, from dodging players coming at you to being able to suddenly stop running and change your direction to avoid losing a flag. Thanks to all this variability you will work out a wide spectrum of your muscles leading to a toned-looking figure and a significant fat loss.
#6. ICE HOCKEY
611 CALORIES / HOUR
Ice hockey is a contact team sport played on ice, usually in a rink, in which two teams of skaters use their sticks to shoot a vulcanized rubber puck into their opponent's net to score points. The sport is known to be fast-paced and physical, with teams usually consisting of six players each.
Thanks to the fact that this is a very fast-paced and intense sport, your cardiovascular system will become much more resistant and your endurance will rise a lot. Also, your whole body will get toned (especially your legs) and you will be able to burn a lot of fat.
#7. LACROSSE
611 CALORIES / HOUR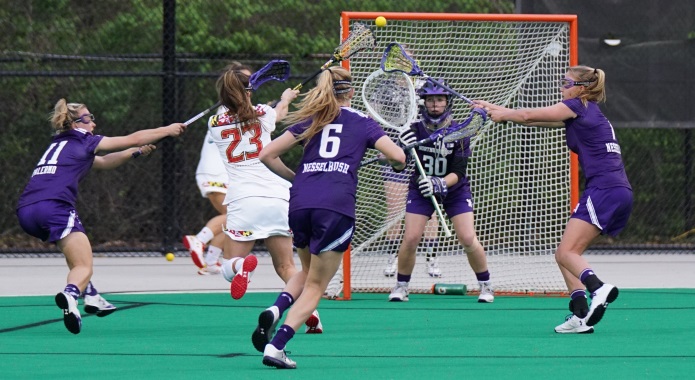 Lacrosse is a team sport played with a lacrosse stick and a lacrosse ball. Players use the head of the lacrosse stick to carry, pass, catch, and shoot the ball into the goal.
An hour of this sport will help you to burn around 600 calories (depending on the intensity of your movements and your weight). Not only that, thanks to this sport, you will work out and tone your whole body (your core, back, as well as both legs and arms).
#8. SOCCER
535 CALORIES / HOUR
Soccer is a team sport played between two teams of eleven players with a spherical ball. The game is played on a rectangular field with a goal at each end. The object of the game is to score by moving the ball beyond the goal line into the opposing goal.
This game is very popular all over the world. Not only will it help you burn a lot of calories, you will also improve your endurance, cardiovascular system, tone your leg muscles, and learn to coordinate your legs.
#9. KICKBALL
504 CALORIES / HOUR
Kickball (also known as soccer baseball) is a game that comes from the USA and is very similar to baseball. In a match, one team tries to score by having its players return a ball from home base to the field and then circle the bases; while the other team tries to stop them by tagging them "out" with the ball before they can return to the home base.
As with many other sports on this list, you will be doing a lot of cardio exercises that will improve the health of your heart and your endurance. Also, you will tone your legs and significantly reduce the amount of stress that is often responsible for overeating.
#10. BASEBALL & SOFTBALL
382 CALORIES / HOUR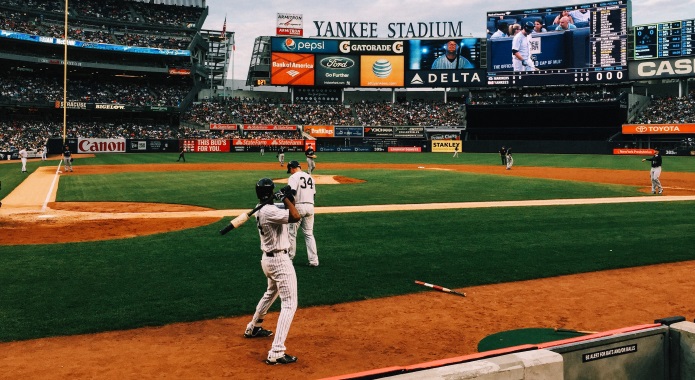 As stated by Wikipedia, baseball and softball are bat-and-ball games played between two opposing teams who usually take turns batting and fielding. The game proceeds when a player on the fielding team, called the pitcher, throws a ball which a player on the batting team tries to hit with a bat.
Although this team sport will not help you burn as many calories per hour as for example handball, it comes with many other benefits for losing weight.
It improves your cardiovascular system and improves your endurance so you can do other exercises and sports for a longer time – hence burning more fat. It tones and improves the strength of your arms and legs, promotes coordination of your hands and eyes, and reduces the amount of daily stress.