RECIPE TO MAKE YOUR OWN SOLE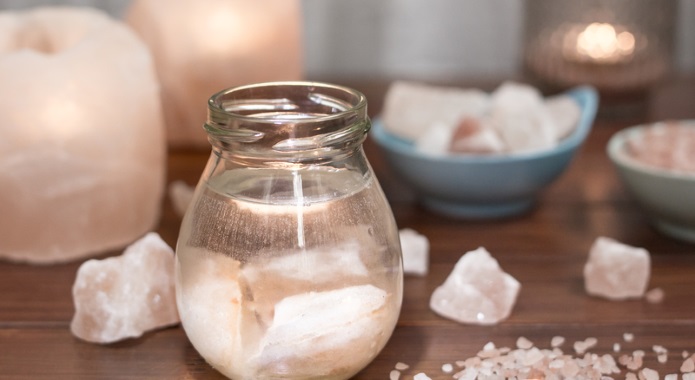 The sole (pronounced "solay") is a mixture of water with salt that is fully saturated so salt crystals do not dissolve in it anymore and they drop to the bottom. Luckily, preparing your own sole at home is really simple. There are several recipes available on the internet but I will provide you with one from Dr. Mark Sricus.
All you have to do is to follow these steps:
Place several Himalayan Crystal Salt stones or granules in a glass container
Cover the salt with two to three inches of pure, spring water
Let it dissolve for 24 hours
If every piece of salt dissolves, add more crystals and let it stay for another 24 hours
Repeat until the water can no longer dissolve the salt
The salt crystals will then drop to the bottom of the container
The best part? Your sole is a natural conservant so it will never go bad. Just keep it covered to avoid dust particles getting in there and water from evaporating.
Did you know that a single teaspoon of this sole contains around 480 mg of sodium or 20% of the Daily Reference Value of 2400 mg based on a 2,000 calorie per day diet?
RECIPE FOR RELAXING BATH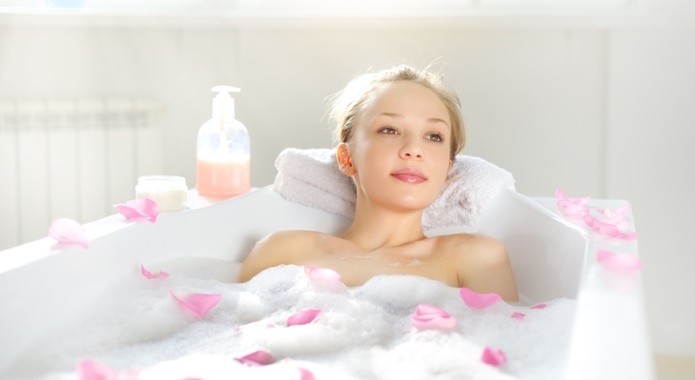 If you are looking to relax and gain some energy, all you have to do is to take a relaxing salty bath before you go to bed. Although right after the bath you will feel tired, in the morning, you should feel much more energized.
All you have to do is to follow these simple steps:
Fill your bathtub with hot water (beware not to burn your skin)
Put and dissolve around 1 and a 1/2 pounds of this salt into it
Optionally, you can add around 2 cups of Epsom (magnesium rich) salt as well
Submerge as much of your body as possible and soak for at least 20-30 minutes
While taking this bath, sip slowly one glass of water to promote sweating and detox
This should do the trick. The ancients used this approach to relax and detoxify themselves on an almost weekly basis, and now you can too.
STEAMY RECIPE FOR SINUS ISSUES
There is a simple remedy for sinus issues you can try at home. All you have to do is to:
Bring 1 gallon of water to boil in a pot
Remove your pot from a stove and place it on a pot holder on your table
Dissolve 1/2 cup of Himalayan salt in it through stirring
Lean your face over the pot but keep the distance of around 12 inches to avoid burning your face with steam
Cover your head with a towel to form a tent that will trap hot steam with salt particles in it
Breathe as you would normally (for 5 to 10 minutes) and breath slowly and deeply in and out once every minute
Because these pink crystals emit negative ions, you'll be able to attack your sinus issues with a full force without ever compromising your respiratory (or any other) system.
RECIPE FOR BEDTIME PASTE
There are many home remedies you can find on the internet for falling asleep. You can try this paste made out of honey and pink salt.
All you have to do is to follow these steps:
Prepare a glass jar
Add five teaspoons of raw organic honey and one teaspoon of pink salt
Mix it well to make a consistent paste
Dissolve one teaspoon of this mixture under your tongue before going to bed
This way you will give your body every substance it will need to replenish and restore your energy levels overnight during your sleep. Just keep in mind to brush your teeth after it as honey (although healthy in general) can rot your teeth.
FINAL VERDICT: A SALT YOU SHOULD HAVE AT HOME
There is a tremendous amount of people that could benefit from replacing their daily supply of refined table salt by its much better pink version. Because of its unique composition, it's able to provide you with some significant health advantages.
Those who are smart and savvy about all-natural remedies rant and rave about Himalayan pink salt (and for good reason). It's relatively inexpensive today, and getting yours will be one of the best decisions you end up making.