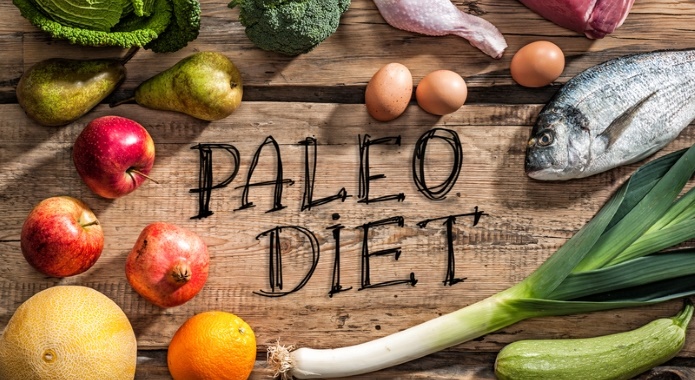 REMEMBER: These Are TOP 7 Most Popular Paleo Blogs You Will Like! Pay SPECIAL Attention to Blog #6! These Tips Helped Over 2,000 Readers!
With so many fad diets and "super foods" making the rounds, it can become quite difficult to know what a healthy meal plan looks like.
Those who choose a Paleo diet know they need to forget all about these "new dietary trends" and get back to "good old basics"! People who try this regime often report significant weight loss, an increase in energy and they feel healthier overall.
Here is a list of 7 best blogs full of excellent tips, great cookbooks and delicious recipes that will help you a lot.
Blog #1 – NomNomPaleo.com
Michelle Tam and Henry Fong, authors of this site, keep things simple. The 2 offer short snippets of information that are useful and entertaining for those who are living a Paleo lifestyle.
While visiting their website, you should look for:
Plenty of paleo friendly recipes!
Links to great & relevant articles from other websites!
Reviews of products that will make your life and cooking in the kitchen a lot easier!
What is more, it uses cartoons and captions to keep things entertaining. This is a fun way to point out some of the common misconceptions about this diet.
Remember: Both authors say that this way of eating offers plenty of delicious options that will keep everyone satiated and happy. The cartoons make it fun and keep the information light!
Blog #2 – PaleOMG.com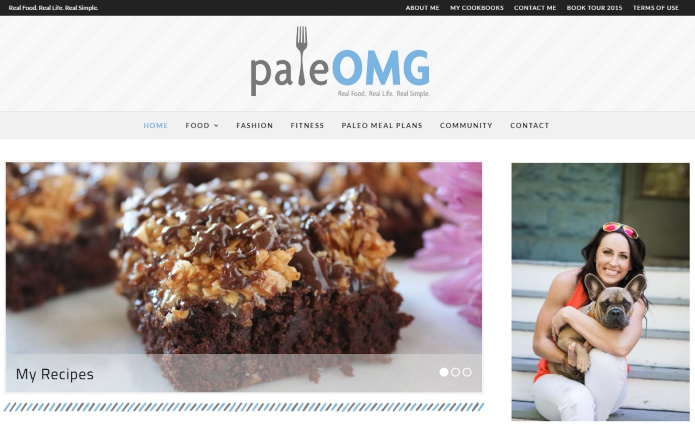 If you're looking for some seriously delicious recipe ideas, this blog is the right place to go. Its author – Juli Bauer – posts nearly every day with incredible new recipes that include lovely photos.
With meals this good, you won't be missing overly processed junk food. Her website also gives helpful information for those that are interested in paleo way of living.
You'll find:
Cookbook reviews
Links to cooking videos
Lifestyle posts
Giveaways
Not only that, her "Day In The Life Posts" are an excellent way to see the meal plan in action. Juli goes through her day, showing photos of each meal and offering tips along the way.
Pay attention: The pictures of food alone are the best reason to pay this blog a visit. The great recipes make it even more fun to read.
Blog #3 – RobbWolf.com
Robb Wolf is a leader in the Paleo revolution. After publishing his book called "Robb Wolf's Paleo Quick Start Guide," he turned his blog into a way to communicate a tremendous amount of health and lifestyle information to his readers.
This website focuses less on the actual food and more on the change in lifestyle that often comes with embracing this diet plan.
On his blog, you'll find:
Many success stories about those who have overcome health issues and benefited from weight loss as a result of following this food plan.
Discussions on various exercise tips and the science behind this lifestyle change!
Sections for podcasts and shopping,!
Forum for asking questions and getting valuable tips from others who are a part of this healthy community.
Please note: The success stories are incredibly encouraging for those that are hesitant about adopting this way of life.
Blog #4 – RubiesandRadishes.com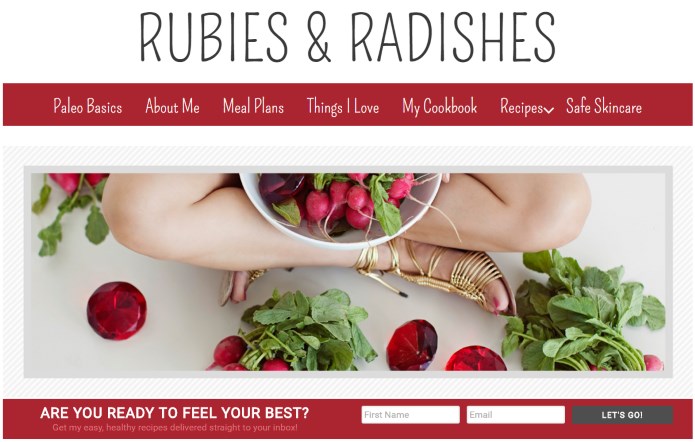 Rubies and Radishes is a site that focuses on recipes and lifestyle tips for those that have chosen to eat Paleo. The author, Arsy, decided to try this diet to get healthy, reduce her bloating, and get rid of frequent headaches!
She now shares her adventures in finding new meals and sources of natural and organic foods on her blog.
She has also written an excellent cookbook that is often discussed on her website. You can even find posts dedicated to book signings and public appearances!
Keep in mind: The website "Rubies and Radishes" is fun and easy to read. Arsy rounds up links from around the web, presenting them in a clean and simple form.
Blog #5 – SarahFragoso.com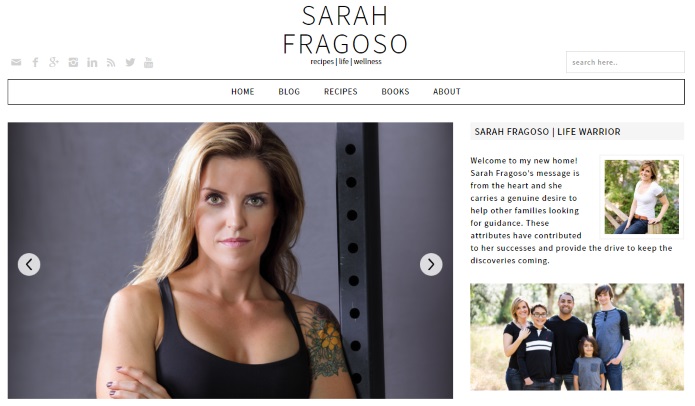 What makes this site unique in a sea of other dietary blogs is that it is frequently updated by an entire team of individuals. Having more than one author means that the info on there isn't just specific to one person.
There is a variety of viewpoints to make the information relevant to a broad audience.
Everyday Paleo isn't just a blog, but an entire company based on providing tips about this lifestyle. In addition to posts and articles, you'll also find various podcasts, videos, bookstore and related events.
Pay attention: Not only that, you will find most frequently discussed subjects in articles to include shopping local, restaurant reviews, menu ideas, fitness tips and various giveaways. Several different voices make up an excellent source of information and personal stories on this site.
Blog #6 – ThePaleoMom.com
Often, going on a diet isn't just an individual decision but a decision that affects other people around us. The Paleo Mom shares her advice about helping an entire family to adopt this new lifestyle and become healthy together.
The author – Sarah Ballantyne – has a science background that allows her to speak with authority about the ideas behind this diet and what makes it work.
While you will be able to find family-friendly recipes on the site, they aren't the primary focus of this website. Instead, you'll want to check her whole blog to find:
Typical topics – Book reviews, stories of families who have found success with this meal plan, and answers to real questions from those who are on this diet.
Focus on children – An entire section is dedicated to how this lifestyle works for children. This section has great information for kids, as well as for those who are pregnant and may be concerned about the effects of the diet on the child.
Keep in mind: Daily Struggles posts are an attractive feature for readers, sharing common problems and real conversations about issues that many people will encounter. Sarah is genuine and honest about the ups and downs of choosing a Paleo way of life for her whole family.
Blog #7 – ThePaleoDiet.com
When it comes to finding an authority on Paleo way of eating, this website is the place to go. It is the leading source of advice for those who want to try this out for themselves.
There is real and factual information about how this regimen can be beneficial to your health and way of life, as well as links to many other very useful websites.
On the blog, Loren Cordain discusses various articles, recipes, podcasts, and even news. The entire site, including posts, answers many common questions.
Pay attention: It is an excellent source of info for both beginners as well as those who have already spent some time on it. This blog provides accurate, factual information that can help anyone interested in going Paleo.