Shirataki noodles are a traditional Asian food that comes from Japan. They are low in carbohydrates as well as calories. What is more, they are made up almost entirely of water, along with soluble fiber.
Thanks to this, they don't have that much of taste when they are served by themselves, but as part of a bigger dish, they can be a healthy and enjoyable accompaniment.
Because of their low-calorie content, Shirataki noodles are quite helpful for those who want to lose weight. Of course, this highly depends on how they are implemented within people's cooking.
Nutritional Facts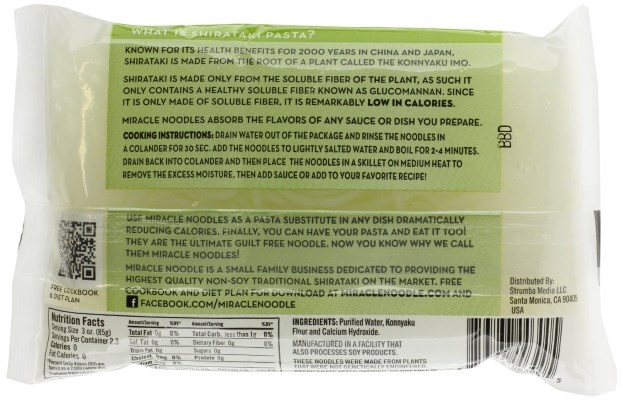 The amazing thing about these noodles is that they are usually composed just of two main ingredients:
Water – Around 97% of their makeup is water, hence the rather soft texture you will notice when you're eating them.
Soluble fiber – The other 3% is made up of dietary fiber, which is, of course, an excellent way of improving a person's digestion.
Nutrition Label – Awesome for Losing Weight

| AMOUNT | 100 g |
| --- | --- |
| CALORIES | 4 cal |
| TOTAL FAT | 0.0 g |
| SATURATED FAT | 0.0 g |
| POLYUNSATURATED FAT | 0.0 g |
| MONOUNSATURATED FAT | 0.0 g |
| CHOLESTEROL | 0.0 g |
| SODIUM | 0.0 mg |
| POTASSIUM | 0.0 mg |
| TOTAL CARBOHYDRATE | 1.0 g |
| DIETARY FIBER | 0.0 g |
| SUGAR | 0.0 g |
| PROTEIN | 0.0 g |
Thanks to a very high amount of water in the noodles, they are very filling and also very low in calorie content. In fact, a block of these contains roughly ten calories – this is as close to zero-calorie-food as you can get.
Pay attention: It's understandable considering how filling they are that this is a great food for anyone who is dieting and trying to lose weight through calorie restriction.
Various Types of Shirataki Noodles
You can purchase this food in two primary forms:
Dry (they look like and can be prepared like the regular noodles)
Wet (packaged with liquid and require special preparation – see paragraphs below)
Shelf time: When you have purchased these, they typically can be kept on the shelf for around a year while still being fit to be prepared.
How to Prepare These Correctly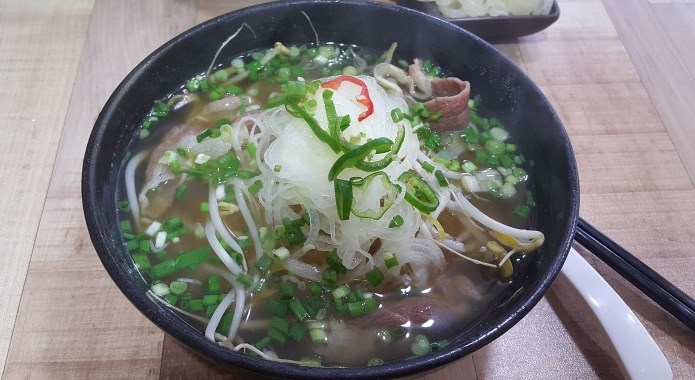 The different forms of preparation don't really have any effect on how healthy these noodles are, as is the case with vegetables, for example.
If you want to prepare these for a healthy dish, then you need to follow these steps first:
Remove the outer packaging.
Drain away the liquid they have come in.
Wash them under cool water – otherwise, a lingering odd taste from the packaging liquid will remain.
Put them in a pan or pot with water and bring them to the boil.
After a few minutes (and you're convinced that they have been cooked) you can drain the water away.
Serve and enjoy.
Keep in mind: If you are looking to get rid of excessive body weight, then you need to make sure that you combine these noodles with other healthy food as well.
Best Places to Get These
There are many places you can go to get your shirataki pasta. My advice is to visit these shops first:
An Asian market, or failing that, an Asian food stall on a market (available both dry and wet).
Leading brick & mortar as well as online supermarkets – including Amazon, Walmart, or Target (available both dry and wet versions).
Price: With regards to price, I am going to provide you with info from Amazon. If you make a search for these at their website, you will find out that a 6-pack of these costs around $15.00 or even less.
Tasty Recipe – Hot & Sour Shirataki Noodles with Tofu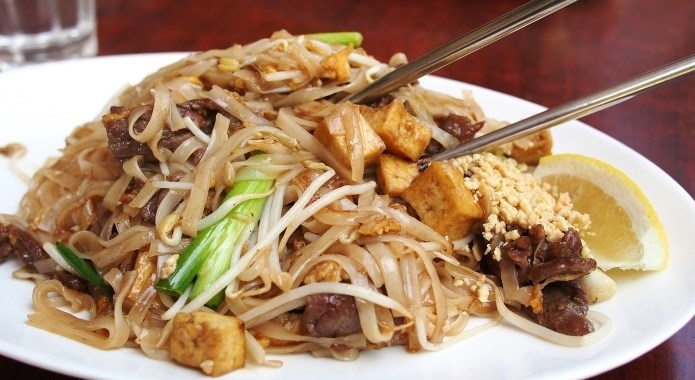 You can use this low-calorie pasta to make a hot and sour dish with tofu that is a very enjoyable meal and is also ideal for anyone who is looking to lose weight but still enjoy a good tasting meal.
All you have to do is to follow these simple steps:
Drain the Shirataki pasta and then put them in a pan ready for boiling.
Add the soy sauce, water, and some sesame oil and then bring the noodles to the boil.
When they're done, turn the heat off and set them aside for when the meal is ready.
Toss the tofu with some soy sauce and sesame oil in a bowl and set aside.
Place the wok on the heat and when it is hot enough, you can add mixture from step four.
Cook until all pieces have turned golden brown.
Place it back into the bowl where you marinaded it and stir it into the sauce a little more.
Place your wok on the heat again and throw more sesame oil to the pan together with mushrooms, green onions, garlic, and stir-fry them until mushrooms release their juices.
Add some lime juice and more soy sauce.
Continue stir-frying until it starts to boil.
Finally, drain noodles and place them on the pan to mix in with the tofu.
Toss well until everything is apparently mixing.
Keep in mind: When you're convinced that everything has mixed well, you can serve this tasty, yet very low-calorie dish.