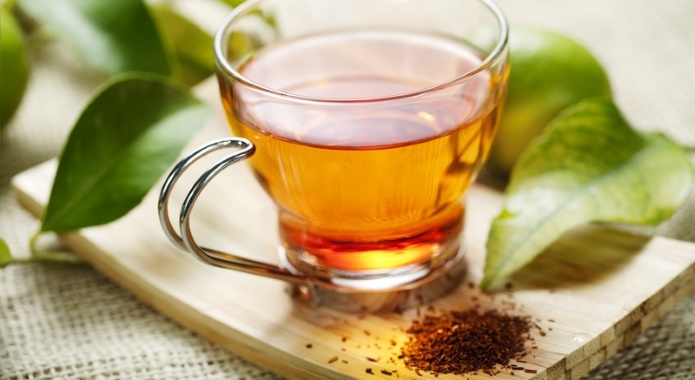 Do you like Rooibos Tea? If so, then you should know that it dates back to 1772 and comes from South Africa where it is also known as "red bush" tea. Found in both red and green variations, it is as delicious as it is healthy.
How much rooibos tea should I drink a day?
According to Rooibos Council, the ideal amount is 5-6 cups of rooibos tea per day to enjoy the most benefits. However, it is not recommended to drink more as this may lead to liver problems and too much estrogen in your body. This may wreak havoc on your hormonal balance in the long run.
Does Rooibos tea have caffeine in it?
Luckily, Rooibos tea is caffeine-free so you never have to worry that a cup of this hot drink will leave you with jitters or other unwanted side effects such as insomnia.
Through our in-depth online research, we've discovered several very interesting health benefits of rooibos tea that you probably never knew about. Just don't forget to read our "Contraindications and dangers" section at the end of this article as well!
BENEFITS YOU WILL FIND IN THIS POST
1. HELPS WITH WEIGHT LOSS
2. ASSISTS AGAINST INSOMNIA & PROMOTES GOOD SLEEP
3. IT IS CAFFEINE FREE
4. RELIEVES VARIOUS SKIN CONDITIONS
5. HELPS YOUR LIVER
6. CALMS UPSET STOMACH
7. FULL OF ANTIOXIDANTS
8. ROOIBOS AS A CANCER PREVENTION
9. GOOD FOR YOUR HEART & DIABETES
10. FULL OF NUTRIENTS & MINERALS
11. GOOD FOR YOUR BONES
CONTRAINDICATIONS, WARNINGS & DANGERS YOU NEED TO KNOW ABOUT
HELPS WITH WEIGHT LOSS
(BENEFIT #1)
Is the connection between Rooibos tea and weight loss real? There have been many different brands of this drink promoted for the purpose of fat burning. However, have these claims been based on real facts?
There are three main reasons why rooibos, in particular, is so good at helping you keep the slim figure.
1. LOW IN CALORIES
Rooibos tea on its own is low in calories unless you add any sugar, honey or even milk. Actually, a cup of this hot beverage has just two calories. Replacing sweetened sodas with a cup of this tea will automatically reduce your daily caloric intake.
Here are some basic tips by HealthyFocus.org to make rooibos tea more potent weight loss aid:
"… [A]s a part of an overall diet plan, rooibos tea will not only benefit your health but might lead to a decent amount of weight loss. Of course, sweetening the tea with sugar or honey and adding milk will negate any weight loss benefits so make sure that you drink it unsweetened and without adding milk. Do not expect super-fast results; losing weight healthily will take a fair amount of time but losing your weight steadily is the best way to keep it off in the long run."
As "calories in and calories out" is the main thing you should keep in mind in regards to losing weight, drinking plain rooibos tea without sugar will satisfy your thirst without consuming extra calories.
2. NATURALLY SWEET
Are you worried about giving up on that deliciously sweet soda and replacing it with a plain tea? How about your sweet tooth? If these are the questions you might want to know about then I have some good news for you.
Rooibos tea is naturally sweet and it gets even better.
A cup of this tea contains only 2 calories! That is why this tea is the perfect replacement for sugary sodas without depriving yourself of their sweet taste. This way you will still lose weight.
3. BALANCES BLOOD SUGAR & INHIBITS FAT STORAGE
This tea contains a substance called aspalathin that is a unique flavonoid that helps to reduce stress hormones. The reason why this is important is the fact that stress hormones are triggering food cravings and fat storage.
If you do not trust us then have a look at what Rooibos Council has to say about this:
"Rooibos's unique Bioflavonoid, Aspalathin, helps to reduce stress hormones that trigger hunger and fat storage, typically associated with high blood pressure, heart disease, metabolic syndrome, insulin resistance and Type 2 diabetes. In a nutshell, Rooibos tea can prevent the body from storing and even forming new fat cells."
According to South African researchers, polyphenols and flavonoids found in the plant inhibit adipogenesis (the formation of new fat cells) by as much as 22 percent. These chemicals also aid fat metabolism and promote weight loss.
Not only that, magazine LiveStrong.com states that rooibos tea can help your body to balance blood sugar levels:
"An animal study published in 2009 in "Phytomedicine" found that green rooibos tea helped regulate glucose metabolism, preventing increases in fasting blood glucose levels during the course of the five-week study. This effect is a result of aspalathin, a compound found in green rooibos. […] The study suggests rooibos tea may help keep blood glucose levels in check, preventing sharp spikes and falls that can trigger symptoms of hunger and possibly leading to lower calorie consumption."
Sadly, rooibos tea is not as potent as green tea in regards to weight loss. Green tea contains catechins that have been linked to fat burning processes. However, switching out one 8-ounce cup of sweetened coffee for a cup of tea per day will lead to 7.5 pounds of weight reduction over a year.
FIRST RELATED RESEARCH STUDY:
"Daily consumption of tea containing 690 mg catechins for 12 wk reduced body fat, which suggests that the ingestion of catechins might be useful in the prevention and improvement of lifestyle-related diseases, mainly obesity."
SECOND RELATED RESEARCH STUDY:
"Decreased leptin secretion was observed after rooibos treatment. Our data show that hot water soluble solids from fermented rooibos inhibit adipogenesis and affect adipocyte metabolism, suggesting its potential in preventing obesity."
ASSISTS AGAINST INSOMNIA & PROMOTES GOOD SLEEP
(BENEFIT #2)
Do you have a hard time staying asleep? Heavy caffeine drinkers are often up in the middle of the night and can't catch any sleep. If you're the type of person that goes for a cup of coffee a half hour before bed, this can be the primary cause of all of your problems.
Rooibos, on the contrary, has been shown to fight off insomnia and some people say that it can be used as an alternative to sleeping pills. Through its ingredients, you become calmer and more relaxed.
Your cortisol levels (a hormone that makes you stressed) are also kept lower after just one cup. With no caffeine, you can drink this tea right before bed and enjoy a full night's sleep without any adverse side effects involved.
RELATED RESEARCH STUDY:
"In vivo studies demonstrate that Rooibos significantly decreased glucocorticoid levels in rats and steroid metabolite ratios linked to metabolic disorders–cortisol:cortisone in humans and CORT:testosterone in rats. Results obtained at cellular level elucidate possible mechanisms by which these effects were achieved."
IT IS CAFFEINE FREE
(BENEFIT #3)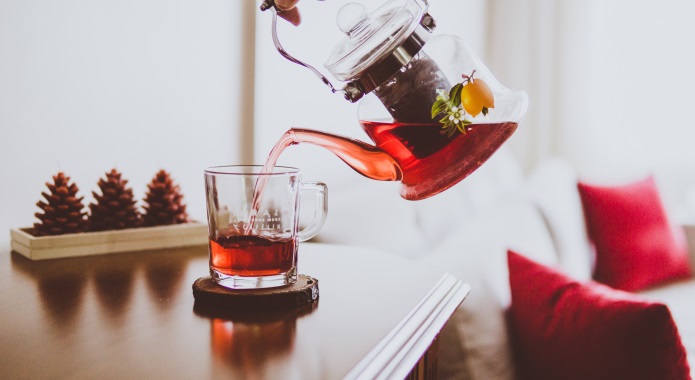 Caffeine in black or green tea can be as high as that in coffee. While not inherently bad for your health, having too much of this substance in your body comes with nasty side-effects, such as increased heart rate, high blood pressure, dizziness, jitters, troubles with sleeping, muscle tension, anxiety, digestive issues, and even frequent urination.
Luckily, Rooibos tea is caffeine free.
This way you will never have to worry that Rooibos will leave you with jitters or any other unwanted side effects related to coffee. The best part? You can drink it right before bed to relax and unwind!
This indicates that it may be a better choice for pregnant women, children, and caffeine-sensitive people. However, you need to consult its consumption with a medical professional first.
RELATED RESEARCH STUDY:
"Rooibos tea may prevent DNA damage and inflammation by its anti-oxidative activity in vivo. As Rooibos tea is free from caffeine, routine intake may be safe and useful in reducing oxidative stress in children."
RELIEVES VARIOUS SKIN CONDITIONS
(BENEFIT #4)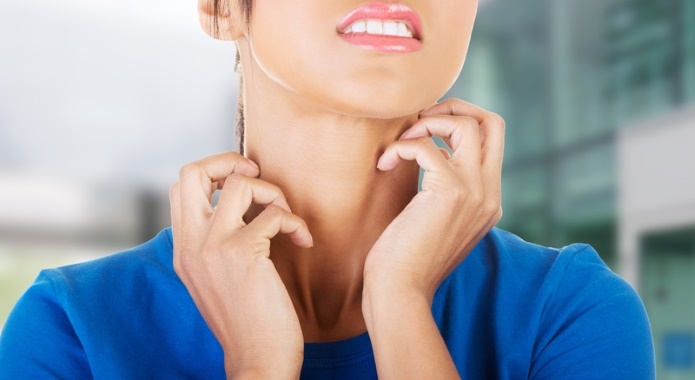 Skin issues can be relieved thanks to the rooibos tea. You have two options here – drink it or apply it directly to your skin. If your condition is severe, a direct application may prove to be more beneficial.
Some of the conditions that substances from this tea may improve include eczema, sunburn, rashes, dry skin, and irritation.
Many parents will apply this tea to their babies if a diaper rash is present as it should reduce the itchiness, irritation and should lead to quick relief. The alpha hydroxy acid along with zinc also help to ensure that your skin is smooth.
As always, consult your doctor first.
FIRST RELATED RESEARCH STUDY:
"Growing evidence suggests that polyphenols may be used for the prevention of sunburns as polyphenols decrease the damaging effects of ultraviolet A (UVA) and ultraviolet B (UVB) radiation on the skin."
SECOND RELATED RESEARCH STUDY:
"Our data suggest that longer treatment intervals with glycolic and lactic acid can cause improvements in both the epidermal and dermal components and support the usefulness of AHA [alpha-hydroxy acid] for rejuvenating photo-damaged skin."
HELPS YOUR LIVER
(BENEFIT #5)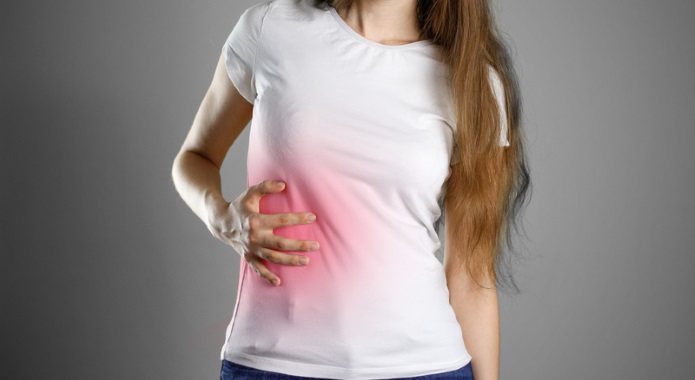 There have been conducted several studies indicating that antioxidants found in the rooibos tea can protect your liver against various damaging substances. Furthermore, rooibos was shown to reverse some of the initial damage caused to the liver and helps to repair this organ even further!
The study has only been conducted on mice, but it has already been recommended as a supplemental form of liver treatment that works well combined with other medicinal options.
RELATED RESEARCH STUDY:
"Simultaneously, rooibos tea significantly suppressed mainly the increase in plasma activities of aminotransferases (ALT, AST), alkaline phosphatase and bilirubin concentrations, which are considered as markers of liver functional state. The antifibrotic effect in the experimental model of hepatic cirrhosis of rats suggests the use of rooibos tea as a plant hepatoprotector in the diet of patients with hepatopathies."
CALMS UPSET STOMACH
(BENEFIT #6)
Inflammation in our digestive system often causes an upset stomach. When your belly hurts, all you need to do to find a relief is to drink a cup of hot tea. Rooibos, in particular, contains a substance that is called "quercetin."
This ingredient is known to be an anti-inflammatory agent. One cup will relieve upset stomach and reduce inflammation in your digestive system, which often leads to bloating.
According to the experts from LiveStrong, quercetin is also antibacterial:
"Quercetin inhibits bacterial infections, writes David Rakel, M.D., in his book "Integrative Medicine." Infections cause inflammation by activating your immune system, and inflammation is a part of any immune reaction. Because of its antibacterial effects, quercetin helps reduce both infection and inflammation."
Not only that, several nutrients in rooibos tea act as antispasmodics and prevent abdominal pain and reduce the occurrence of diarrhea.
FIRST RELATED RESEARCH STUDY:
"However, to our knowledge these are the first data to show a benefit of the quercetin on polyp number and size distribution in the ApcMin/+ mouse model of intestinal tumorigenesis."
SECOND RELATED RESEARCH STUDY:
"Its constituents, chrysoeriol, orientin and vitexin showed a similar pattern of spasmolytic effects to the extract, while rutin was more like verapamil. So Rooibos tea possesses a combination of dominant K(ATP) channel activation and weak Ca(++) antagonist mechanisms and hence justifies its use in hyperactive gastrointestinal disorders."
FULL OF ANTIOXIDANTS
(BENEFIT #7)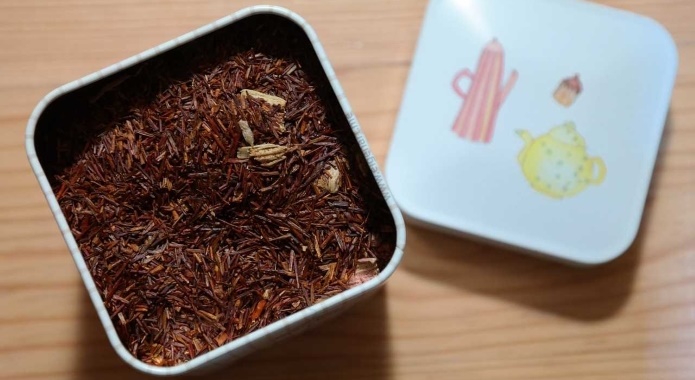 One study looked at the antioxidant levels of the rooibos tea. What researchers discovered is the fact that antioxidant substances in it prevent free radicals from attacking your DNA.
Okay, so what does this all mean?
The reduced amount of free radicals will relieve your immune system that can focus more on other issues within your body. Thanks to a cup of Rooibos tea your body will be better able to fight off free radicals that kill or weaken your cells.
Moreover, there are many health benefits of antioxidants including:
Healthier, more youthful, glowing skin
Longer life span
Slower signs of aging, including of the skin, eyes, tissue, joints, heart, and brain
Antioxidants may boost brain function
Antioxidants like vitamin C can help with hair growth
Just keep in mind that antioxidants (such as aspalathin and nothofagin), also known as polyphenols, help ward off systematic diseases such as cancer and cardiovascular issues as well.
RELATED RESEARCH STUDY:
"This result indicates that total soluble phenolics, specially flavonoid, of Rooibos tea are responsible for several kinds of antioxidant activities and preventive activity on peroxyl radical induced DNA strand scission."
ROOIBOS AS A CANCER PREVENTION
(BENEFIT #8)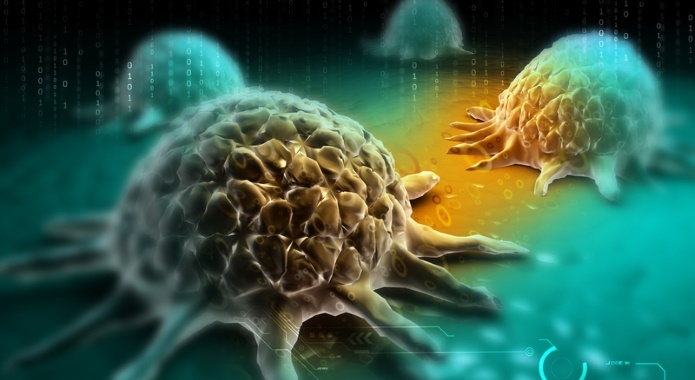 Although it may surprise you, cancer and tea are tightly linked together. Green and Rooibos tea, in particular, are known to help modulate immune function in your body and hence lowering your chances of getting this systemic disease.
Just have a look at what HuffingtonPost has to say about the potency of Rooibos:
"Additional research shows that the herbal tea possesses ingredients that reduce esophageal and liver cancer and skin tumours. Clinical trials in humans are being planned. The Cancer Association of South Africa has endorsed the herbal tea's potential as a form of natural chemoprevention. This means it can aid in preventing cancer and even possibly reduce the growth of cancer cells."
The question remains – Will this tea completely stop cancer that's already developed?
Sadly, the answer is no.
However, Rooibos (and various other teas) can be used in conjunction with medicines and treatments when this nasty disease has already developed within your body.
FIRST RELATED RESEARCH STUDY:
"Thus, our findings suggested that Rooibos tea extract may facilitate the antigen-specific antibody production through selective augmentation of IL-2 generation both in vitro and in vivo. Collectively, Rooibos tea intake may be of value in prophylaxis of the diseases involving a severe defect in Th1 immune response such as cancer, allergy, AIDS, and other infections."
SECOND RELATED RESEARCH STUDY:
"Fermentation of herbal teas reduced the inhibitory effects on papilloma development associated with a reduction in the polyphenolic constituents. The inhibitory effect of herbal teas on papilloma development is associated with different flavonoid subgroups and/or combination thereof."
GOOD FOR YOUR HEART & DIABETES
(BENEFIT #9)
According to the research study conducted by Linköping University not only do antioxidants help your heart, but tea, both black and Rooibos, can improve your heart health due to inhibition of ACE (angiotensin-converting enzyme) activity.
Furthermore, cardiovascular mortality was decreased, but the exact reason these two drinks helped is still unknown.
When it comes to diabetes, another study conducted by Tokio University of Agriculture and Technology showed that this type of hot beverage may aid with type 2 diabetes specifically. Due to the flavonoid called aspalathin found in it, glucose uptake was increased, improving its tolerance in just five weeks!
Another fact about asphalatin is that it not only helps protect against vascular inflammation (inflammation of the blood vessels) but protects the heart against a lack of blood supply to the heart as well.
FIRST RELATED RESEARCH STUDY:
"These results suggest that green tea and Rooibos tea may have cardiovascular effects through inhibition of ACE activity."
SECOND RELATED RESEARCH STUDY:
"These results suggest that aspalathin has beneficial effects on glucose homeostasis in type 2 diabetes through stimulating glucose uptake in muscle tissues and insulin secretion from pancreatic beta-cells."
FULL OF NUTRIENTS & MINERALS
(BENEFIT #10)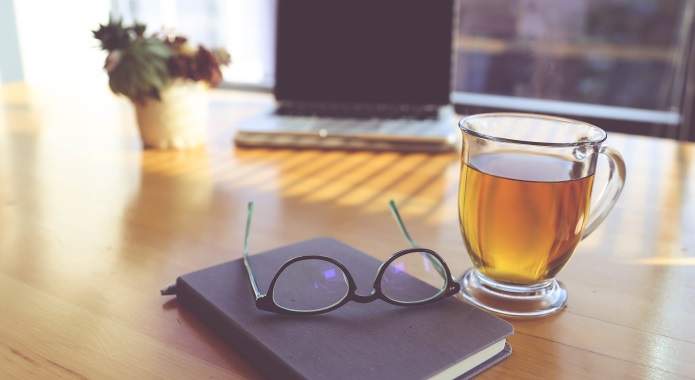 Did you know that rooibos tea is full of valuable nutrients and minerals? It includes iron, calcium, potassium, copper, manganese, zinc, magnesium and even alpha hydroxy acid. Not only that, it is rich in antioxidants such as aspalathin and nothofagin.
The best part? A lot of these nutrients increase and promote the absorption of others. This way, your body´s nutritional needs will be fulfilled better.
CALCIUM (1.09MG PER CUP)
Calcium is really important for your health as it is vital for building strong bones and teeth, sending and receiving nerve signals, clotting blood, squeezing and relaxing muscles and keeping a normal heartbeat.
MAGNESIUM (1.57MG PER CUP)
Magnesium, for example, is needed for more than 300 biochemical reactions in the body. It helps support healthy immune system, helps to maintain normal nerve and muscle function and helps bones remain strong.
ZINC (0.04MG PER CUP)
Zinc is really important for the immune system and it also plays a vital role in cell growth, wound healing and the use of carbs for energy. Other uses are for the senses like smell and taste, is vital in pregnancy and improves the action of the most anabolic hormone in the body – insulin.
What is more, Rooibos tea contains no oxalic acid, which means that it is a great drink for those who suffer from kidney stones. Did you know that in some parts of the world, it's even given to children who are intolerant to dairy as an alternate calcium source?
RELATED RESEARCH STUDY:
"It is notable that rooibos and honeybush, both indigenous to the Cape and which grow in sandy soils, had similar mineral profiles. Rooibos, which grows only on the West Coast, was exceptionally rich in Na. Conversely, Athrixia, which grows in dolomitic areas, contained relatively large amounts of Ca and Mg."
GREAT FOR YOUR BONES
(BENEFIT #11)
As already mentioned, rooibos tea contains minerals like calcium, manganese, and fluoride that aid in forming good bone structure and healthy, strong teeth. By supplying all the necessary building blocks, you can reduce risks of developing a chronic illness like arthritis, osteoporosis, and joint pain.
There are three of these minerals worth pointing out:
Manganese – Is a trace element that plays a special role as a co-factor in the formation of bone cartilage and bone collagen according to BetterBones.com.
Calcium – A mineral that is needed for a lot of day-to-day, minute-to-minute processes within your body and that when not readily available from your diet is harvested from your bones making them weaker (see more here).
Fluoride – A promising element that on one hand promotes bone formation by osteoblastic stimulation while on the other is still controversial as a therapeutic agent in the treatment of osteoporosis.
What is more, according to several studies done, rooibos tea helps improve osteoblast activity. Osteoblasts are responsible for bone mass, so they directly influence strength, density, and health of your bones.
FIRST RELATED RESEARCH STUDY:
"Green, black and rooibos tea improved osteoblast activity at the low level and support epidemiological evidence suggesting tea consumption may benefit bone heath."
SECOND RELATED RESEARCH STUDY:
"Orientin and luteolin, flavonoids in rooibos tea, enhance mineral content in Saos2 cells. These findings provide guidance for doses to be studied in well-established animal models."
CONTRAINDICATIONS & DANGERS YOU NEED TO KNOW ABOUT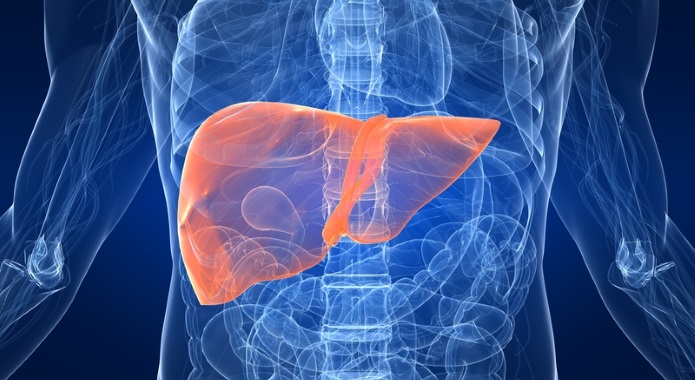 The Rooibos tea comes from natural sources, so there are just a few risks to worry about. However, there are three main issues you should keep in mind before you decide to drink this tea:
Toxicity – There is a chance of drinking too much of rooibos. Overdosing on this tea could cause toxicity, but you would need to drink such an absurd amount that it's unfeasible for this to occur.
Cancer – Those people who suffer from a hormone-sensitive type of cancer have to consult their doctor before taking Rooibos tea. The reason is that it promotes estrogenic activity that could worsen your type of disease.
Organ damage – Taken in large quantities, this tea can harm your kidneys and liver. However, small amounts, as shown above, actually help to protect these organs.
As always, practice in moderation and to be safe, always consult your doctor when you try to use new food as a medicine. However, for a healthy individual, Rooibos can be extremely beneficial and packs a lot of great benefits in just an 8-ounce cup!
FIRST RELATED RESEARCH STUDY:
"Our studies show that dong quai and ginseng stimulate the growth of MCF-7 cells independent of estrogenic activity. Because of the lack of efficacy and the potential for adverse effects, use of these herbs in humans warrants caution pending further study."
SECOND RELATED RESEARCH STUDY:
"Although hepatotoxicity associated with rooibos and buchu has rarely been reported, anecdotal correspondence with South African physicians confirmed suspected cases. Hepatotoxicity may be due to the heterogeneous composition of herbal teas due to small-batch manufacturing. Our case clearly outlines the need to suspect herbal causes of idiopathic liver injury."
HOW TO MAKE ROOIBOS HERBAL TEA
https://www.youtube.com/watch?v=0S3L2CfcstQ
Luckily, making a cup of rooibos tea is easy to prepare at home. All you need is a kettle, water, and rooibos tea (these are easy to get at local grocery stores).
Once you have everything at hand, you need to follow these steps:
Get a teaspoon of dried rooibos tea per cup of tea
Bring water (about 6-8oz per cup) in your kettle to boil
Set the kettle aside (turn it off) and wait for water until it stops boiling (usually 1 minute is enough)
Add rooibos tea
Steep it for at least 2-3 minutes
Strain out tea
Pour a cup
Enjoy while it is still hot (but do not burn yourself)
For the most optimal health benefits, it is best to sip your cup of tea while it is still hot. I recommend not to add any sweetener to it if you can handle its taste (if you have to, then use high-quality organic honey).
DR. OZ & ROOIBOS TEA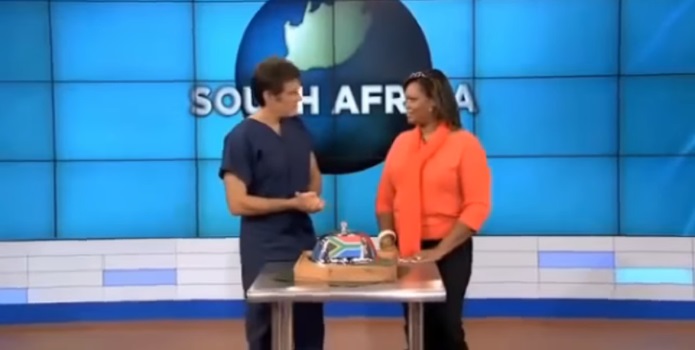 I bet that almost everyone who watches television knows famous Dr. Oz. He is well-known for his weight loss tips and uncovering new health-related trends. As we are not connected to this person in any way, we cannot say what he thinks about Rooibos tea right now.
However, around 27th October 2011, a part of Dr. Oz show was aired where he presented Rooibos tea as a weight loss solution that is used by women in South Africa. The main reasons why you should try it out (if you want to shed some excess pounds) is that it tastes good and has only two calories.
It doesn't get much better than that!
He also mentions that swapping out one cup of coffee for this hot drink will lead to a whopping 7.5 pounds of weight loss in one year. If you drink coffee four times per day, this is nearly two pounds of fat reduction per month. Not bad, right?