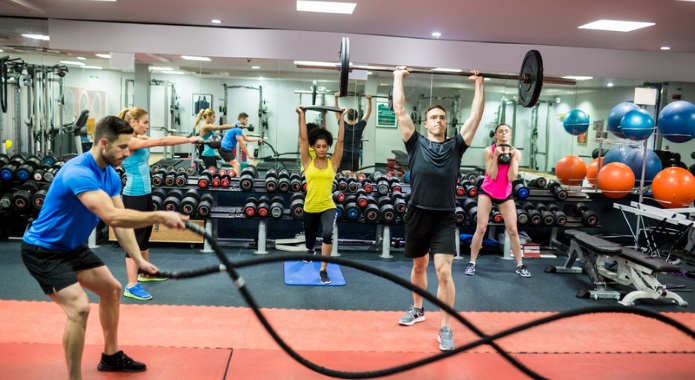 Going through a regular workout routine is one of the best ways in which you can maintain yourself physically fit. If you don't exercise all that often, it can be difficult trying to get started.
However, soon you'll find that once you get into a regular rhythm, it becomes a lot easier to keep things going on.
When you will become more experienced, you might be looking for ways to gain even more fitness, especially if you're an aspiring athlete. There are a ton of different regimes and styles to choose from, but one that tends to offer the most significant improvement in the shortest amount of time is a Japanese method called Tabata (T.).
Tabata Protocol – The Basics
This one is a form of high-intensity workout with a very basic premise. Essentially, you perform sets of ultra-intense exercises for 20 full seconds, then go through 10 sec. of rest, thus forming one "cycle".
These cycles are then repeated for about 4 minutes or so, or even more depending on how much weight you want to lose, and how much fitness you want to gain. The basic protocol of Tabata is pretty straightforward, but what really counts is what you do in those 20 seconds.
There are many routines and videos you can follow, each emphasizing different parts of the body. No matter which one you choose, its high intensity nature will mean that you get a little bit of a cardio each time you go through it.
Yes, There Are 3 Great Benefits
Benefit #1 – Better Fitness Level
In a scientific study, athletes were told to use this method as their primary form of preparation. The results show that when going through this method 4 times a week, plus one day of steady-state training, these athletes were able to obtain same gains that rival athletes who went through steady-state method for 5 days.
Additionally, people who were using Tabata started at a lower level of overall fitness.
Benefit #2 – Greater Anaerobic Capacity
Clearly this can be a path to healthy and strong body at a faster rate than a lot of other ways of working out. However, this isn't the only benefit.
It has also been observed that T. will offer some increases in anaerobic capacity, which can turn into bigger improvements since, unlike cardio, anaerobic workouts mean that you're essentially not using oxygen (or using more than you take in).
Related: Top 15 Fat Burning Foods You Need to Know
This can also mean that such a routine can be more difficult to perform than usual, which is why this method tends to be restricted to those who are already pretty fit. Still, it's one of the best methods to use when you want to gain a lot in a short amount of time.
Benefit #3 – Higher Aerobic Levels
What is more, this technique also has the benefit of improving your aerobic fitness as well. While it has benefits that ordinary cardio does not have, it also shares many of the same upsides. This means that you'll get a more complete workout with Tabata.
Your body will also have higher metabolism during this exercise, thus allowing you to burn more fat as well as calories even after you've finished working out.
There Are Also 3 Downsides
Requires strong willpower – In terms of physical health effects, there are no real downsides to its practice. However, given the fact that it's a high intensity workout, it can take a bit of willpower to keep it going if you're not used to doing that much of working out.
Dangerous for inexperienced – You also need to make sure that you can handle yourself in case you decide to use weights during your T. routine. Since it's really intense, you might start rushing through your exercises, which can lead to injury in case you're not careful enough.
Requires good physique – You also need to be physically capable of intense workouts in general. Those who are prone to heart attacks or strokes may need to reconsider whether this is the right method; it tends to be very strenuous in a relatively short period of time.
MOST Shared Posts, Read Them:
Extra advice: Consult your doctor in case you are unsure about this!
Best Sources of Tabata Routines & Intervals
One workout method from Obi Obadike outlines a different set of techniques for two times a week (Monday and Wednesday), with each day being only 4 minutes. On Monday he mentions exercises like:
Mountain climbers
High knees
Burpees
Air squats
Related: Top 22 High Protein Foods That Will Banish Your Hunger
And for Wednesday he mentions:
The "suicide" move
Overhead slam
Air squats
Heavy bag thrusts
Click Here to See The Complete Routine
You do one set of max reps for 20 seconds, then rest for 10 sec. Overall it's a solid routine, but with these, it can be a little difficult pulling them off if you're inexperienced!
Another workout set designed by Adrian Crowe is a list of 15 different exercises that you can perform, including:
Hang clean
Clean & press
Kettle bell deadlift
DB thrusters
Kettle bell swings
Bosu ball on/off
Jump switch lunges, etc.
Click Here to See The Complete Routine
Something to note is that there is only a loose list of exercises here; it's up to you to find a good pattern for these throughout the week. Just discover what works best for you!
A routine offered by Mens Health is a simpler, but nonetheless valued version. They provide three different "finishers", with techniques that include:
Stationary running
Stationary mountain climber
Seal jacks
Push-up jacks
Skater jumps
'Plank to push-up'
Click Here to See The Complete Routine
This one might be more appropriate for people who cannot perform some of the more extreme techniques.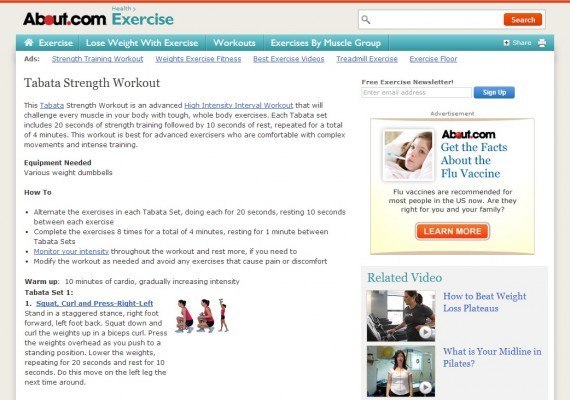 For those wanting to build strength, about.com offers a solid routine. They provide four different sets of workouts, that include:
Related: 10 Superfoods That Will Boost Your Health
Squats
Curl & press left/right
Front/rear lunges
Hammer curl with power squat
Squat press
Walking push-ups
Core kickbacks
Pulsing dumbbell rows
Rear lunge with double arm bow
Click Here to See The Complete Routine
It's a varied set of exercises, but it may be ideal for those who want to build strength without doing anything too crazy.
3 Free Helpful Tools
A bit of technology can help you along the way as you train for better overall fitness. There are a couple of different tools you can use to assist you in properly timing your T. routine.
Tool #1 – Tabata Training Timer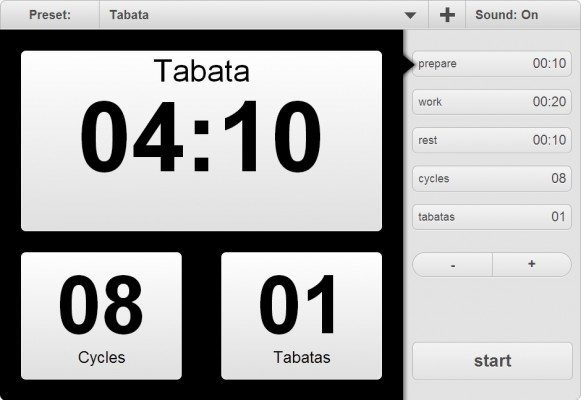 This is one really helpful utility. It works entirely within a web browser, which means it can work on nearly any computer or mobile device.
It allows you to select various periods for your workout and set the intervals. It keeps track of how many rounds you've worked and rested as well as the total number of cycles.
It's a fairly simple tool, but immensely useful when you don't have anything else you can use to plan your workout.
Tool #2 – Tabata Timer Mobile Application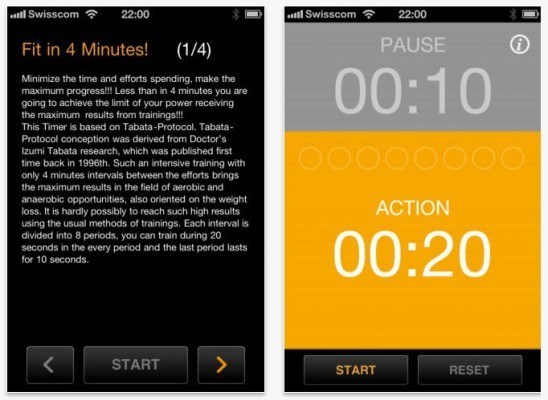 If you happen to have an iPhone or iPad, there's also a (currently) free app you can get from the App Store.
Click Here to Download This Mobile App
It's a little bit simpler than the mentioned web-based tool, but nonetheless works perfectly for this technique — 4 minutes of alternating 20 second workouts followed by 10 sec. of resting.
Once you press Start, it takes care of everything for you, signaling the completion of a work or rest period using appropriate alarm noises.
Tool #3 – Best Music & Songs for Tabata
[Also check out: 15 Effective Tips to Stop Sugar Cravings]
One of the essential parts of all these regimes is rhythmic & energizing music! It will help you to keep that necessary high intensity pace.
Pay attention! If you want to find good source of music that was created directly for tabata then this is really great source – TabataSongs.com
Training DVDs & Videos You Need to Have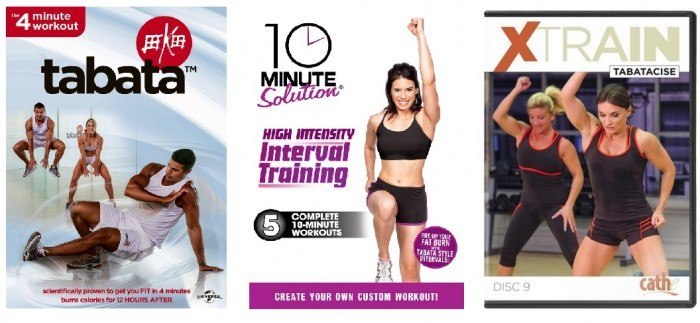 The 4 Minute Workout Tabata TM: The Official DVD (2013) – This one is a good video that you can employ. It's priced at about $16 and offers a solid introduction to the practice of Tabata. It's fairly cheap and is designed for those who have not performed this before.
10 Minute Solution: High Intensity Interval Training (2013) – This is another great video program. It is a cheaper one priced at only $9.00 and includes a number of varied techniques you can do in 10 minutes. It's not quite considered T. training, but it's fairly close and may be good for those who don't need quite as intense of a workout.
XTRAIN: Tabatacise – Finally, here is our last pick. This is one of the more expensive of these three at about $20, but it offers a more comprehensive and intense guide than the other two. This one is likely more appropriate for those more experienced with working out in general.
Further Resources