PLEASE NOTE
According to the CNN, despite the name Military Diet, active members of the military and military officials claim that they aren't aware of this diet and they don't use it because it is nutrient limiting.
Your best friend is having a wedding next week, and you still don't fit into the bridesmaid's dress. Or maybe boyfriend is taking you on a surprise vacation, and you're not feeling bikini-ready quite yet.
We've all been in a situation where we want to lose weight, but don't have time to complete a long-term weight loss program, and aren't sure drinking lemon water for five days is a healthy option.
Don't worry!
There is a promising way to lose weight quickly and still have the freedom to eat ice cream, burgers, and waffles. Intrigued?
It's called the Military Diet. It's a low-calorie, and it works by boosting your metabolism without leaving you feeling starved.
This is your go-to guide to losing weight fast and healthily with the Military Diet.
2 BACKBONES OF MILITARY DIET
The 3-Day 1500 Calorie Military Diet is a low-calorie diet designed to help you lose a healthy amount of weight in a very short period of time. It does this by maximizing your metabolism and guiding the way your body processes calories. How does it do this?
1. HEALTHY FASTING
The Military Diet is structured on a schedule of 3 days on/4 days off. This is a form of intermittent fasting. Intermittent fasting involves periods of very-low-calorie intake and periods of eating normally.
When you fast, the insulin in your body becomes more sensitive.
This sensitivity leads to increased efficiency once you start eating again because nutrients in your food are preferentially directed to your muscle and liver cells rather than your fat cells.
The Military Diet is not "true" fasting because you never stop eating altogether. Instead, the Military Diet is designed so that the "fasting" portion of the diet is both manageable (so you won't be starved at any point) and short-lived.
It allows your insulin levels to become sensitive enough to direct nutrients away from your fat cells, but not so sensitive that you begin to starve. Intermittent fastening is the healthiest and most efficient way to fast.
2. BOOSTING YOUR METABOLISM
Like any restriction based diets, it is extremely important to stick to the given meal plan (see section below). The Military Diet food choices are specifically designed to boost your metabolism and help your body burn more fat and calories.
There are a number of ways to use your diet to boost your metabolism.
One is to eat lots of protein. Foods containing high protein have what is called a high-thermal effect, meaning they require a lot of calories to digest. If you choose your food carefully, you can actually burn more calories by eating than you consume.
Another way is to eat foods high in fiber.
Fiber can be considered as a healthy version of those dangerous carbohydrates we all love and crave. We desire carbs because they make us feel full quickly. Fibers do the same, but unlike carbs, they come with the advantage of boosting your metabolism.
Finally, there is calcium. Calcium binds to fat molecules so that they pass through your digestive system rather than being digested and deposited in your body. Plus, as we all know, natural calcium is great for your bones.
Combined, eating a diet high in protein, fiber, and calcium boost your metabolism making it efficient in fat and calorie burning. Not only that, it keeps you feeling full so you can lose weight without feeling hungry all the time.
MEAL PLAN FOR 3 DAYS ON THE DIET
Meal plans can be very restrictive and are often the biggest downside of any diet. With all the health benefits discussed above, it may seem hard to believe that the Military Diet meal plan is actually delicious and flexible.
Below you can find the original version of the meal plan. Luckily, it can be mixed and matched with various substitutes, as long as you stick within the caloric value for each meal.
DAY #1
BREAKFAST
[323 CALORIES]
1 SLICE OF WHOLE WHEAT TOAST
2 TABLESPOONS PEANUT BUTTER
1 CUP OF COFFEE OR TEA (WITH CAFFEINE)
LUNCH
[248 CALORIES]
1 SLICE OF WHOLE WHEAT TOAST
1 CUP OF COFFEE OR TEA (WITH CAFFEINE)
DINNER
[604 CALORIES]
DAY #2
BREAKFAST
[202 CALORIES]
1 SLICE OF WHOLE WHEAT TOAST
LUNCH
[368 CALORIES]
DINNER
[634 CALORIES]
2 HOT DOG SAUSAGES (NO BUNS)
1/2 CUP VANILLA ICE CREAM
DAY #3
BREAKFAST
[256 CALORIES]
1 OUNCE OF CHEDDAR CHEESE
LUNCH
[149 CALORIES]
1 SLICE OF WHOLE WHEAT TOAST
DINNER
[674 CALORIES]
MILITARY DIET SUBSTITUTIONS
Many people struggle to stick to the Military Diet not because they lack the will or desire to lose weight, but because they have allergies or taste preferences that prevent them from eating certain food items on the meal plan.
Thankfully, there are substitutes for most of the food items on the menu so you can challenge yourself to the Military Diet without missing out on anything.
Before using any substitute listed here, ensure that the caloric value is approximately the same and that you are not exceeding the original food item's sugar and fat content!
4 DAYS OFF THE DIET
For the four days "off" the Military Diet, it is important to keep in mind that these days are not a free-for-all. There are certain basic rules and recommendations you need to follow.
RECOMMENDATION #1
STAY WITHIN YOUR DAILY INTAKE OF 1500 CALORIES
RECOMMENDATION #2
EAT FOODS RICH IN VITAMINS & MINERALS TO COMPENSATE FOR 3-DAY FASTING
RECOMMENDATION #3
AVOID SWEETENERS SUCH AS SUGAR OR CORN SYRUP DURING 4-DAYS OFF THIS DIET
It is recommended that you avoid most sweeteners during these four days, as they contain a high sugar content that your body turns into fat. In small doses, organic maple syrup and honey can be used as alternatives as they contain natural sugars less harmful to your health.
To avoid calories, the best sweetener alternative is fresh or dried Stevia leaves which contain zero calories. They can be used if you need that little extra kick but don't want to cheat your calorie intake.
Below is a meal plan to help you meet these goals during your 4-days off the diet. The best part is, you can mix and match the meals however you like.
DAY OFF #1
ALMOND BUTTER PEAR TOAST
BREAKFAST [350 CALORIES]
2 SLICES OF MULTIGRAIN BREAD
1 TABLESPOON OF ALMOND BUTTER
BBQ BLACK BEAN BURGER & SLAW SALAD
LUNCH [400 CALORIES]
1 CUP OF ZUCCHINI (CHOPPED)
1 TABLESPOON OF LOW-SODIUM BARBECUE SAUCE
*slaw: 1 ½  cups shredded cabbage, broccoli, cauliflower, and carrot mix (combine with 1 tbsp apple cider vinegar and 2 tsp olive oil)
GARLIC, BASIL, SHRIMP & ZUCCHINI PASTA
DINNER [450 CALORIES]
1 CUP OF WHOLE-WHEAT PASTA / NOODLES (COOKED)
3 OUNCES OF FROZEN PRECOOKED & SHELLED SHRIMP (THAWED)
1 CUP OF ZUCCHINI (CHOPPED)
2 TABLESPOONS OF FRESH BASIL (CHOPPED)
1 TABLESPOON OF OLIVE OIL
DAY OFF #2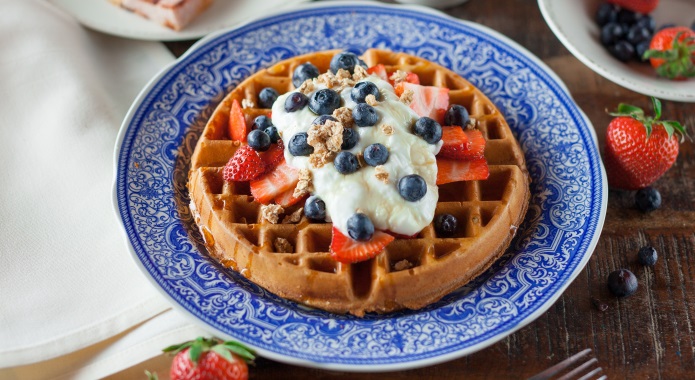 WHOLE-GRAIN WAFFLES WITH BERRY & WALNUT COMPOTE
BREAKFAST [350 CALORIES]
2 FROZEN LOW-FAT, WHOLE-GRAIN WAFFLES
1 OUNCE OF WALNUTS (CHOPPED OR WHOLE)
TURKEY, PEAR & SWISS CHEESE SANDWICH
LUNCH [400 CALORIES]
1 TEASPOON OF DIJON MUSTARD
2 SLICES OF WHOLE-GRAIN BREAD
5 THIN SLICES OF TURKEY HAM
1 SLICE OF LOW-FAT SWISS CHEESE
THREE-PEPPER CILANTRO FAJITAS
DINNER [450 CALORIES]
1/3 CUP OF RED, GREEN & YELLOW BELL PEPPERS (SLICED)
1/2 CUP OF LOW-FAT REFRIED BEANS (CANNED)
1/4 CUP OF CILANTRO (CHOPPED)
*Saute peppers and onion in 1 tbsp olive oil for 8 minutes, then add to wrap with beans and cilantro
DAY OFF #3
EGGS FLORENTINE ON ENGLISH MUFFIN
BREAKFAST [350 CALORIES]
1/2 CUP OF COOKED BABY SPINACH
1 WHOLE-WHEAT ENGLISH MUFFIN (TOASTED)
BALSAMIC CHICKEN SALAD WITH PITA
LUNCH [400 CALORIES]
1 CUP OF PRECOOKED & DICED CHICKEN
2 TABLESPOONS OF BALSAMIC VINEGAR
1/4 CUP OF CHOPPED SCALLIONS
1 LARGE STALK OF CELERY (CHOPPED)
1 CUP OF MIXED SALAD GREENS (BAGGED)
HOISIN GRILLED FISH WITH SUMMER VEGETABLES
DINNER [450 CALORIES]
4 OUNCES OF FISH (SALMON OR TILAPIA FILLETS)
1/2 CUP OF CHOPPED YELLOW SQUASH
1/2 CUP OF CHOPPED CARROTS
2/3 CUP OF COOKED BROWN RICE
*Wrap fish, hoisin sauce, yellow squash, pea pods and carrots together in foil and cook on a pan in oven for 10-12 minutes. Serve over rice.
DAY OFF #4
COTTAGE CHEESE DELIGHT
BREAKFAST [350 CALORIES]
1 CUP NON-FAT COTTAGE CHEESE
GRILLED CHICKEN & WHITE BEAN SALAD
LUNCH [400 CALORIES]
2 CUPS LEAFY GREEN VEGGIES (LETTUCE, SPINACH, ETC.)
1 CUP CHOPPED MIXED VEGGIES (CARROTS, PEPPERS, & TOMATOES)
3 OUNCES OF GRILLED CHICKEN BREAST
1/2 CUP COOKED WHITE BEANS
2 TABLESPOONS OF LOW-CALORIE SALAD DRESSING
GRILLED SALMON WITH BEANS, RICE & SALAD
DINNER [450 CALORIES]
8 OUNCES OF GRILLED SALMON WITH LEMON
2 CUPS STEAMED GREEN BEANS WITH GARLIC
1/2 CUP COOKED BROWN RICE
2 CUPS OF MIXED LEAFY GREENS SALAD
2 TABLESPOONS OF REDUCED CALORIE SALAD DRESSING
SNACKS
CHOOSE 2 PER DAY [150 CALORIES EACH]
1 CUP SNAP PEAS OR CARROT STICKS WITH 1/4 CUP OF HUMMUS
18 BAKED TORTILLA CHIPS WITH 1/2 CUP GUACAMOLE
1 SMALL BANANA WITH 1 TABLESPOON PEANUT BUTTER
1 SLICE WHOLE-WHEAT BREAD SPREAD WITH 2 TABLESPOONS OF PART-SKIM RICOTTA + 1 CHOPPED DRIED FIG & 1 TEASPOON OF HONEY
BENEFITS OF MILITARY DIET
1. POSSIBLE WEIGHT LOSS
Looking at the numbers and the experiences of those who've tried this diet, it works. Even though it is limiting in terms of the number of nutrients in the diet, the number of calories you eat is less than what you need. Keep in mind that this isn't a healthy way of losing weight and that weight loss is not equal to fat loss.
2. SERVINGS OF FRUITS & VEGETABLES
There is room for improvement, but military diets include servings of fruits and veggies. These give you essential nutrients, vitamins, and minerals. However, do not think that this is a balanced, vitamin-packed diet. Not at all.
3. DIETING FOR JUST THREE DAYS
Its only three days at a time making it more manageable compared to other diet plans. Even if you will be on a strict restriction diet, the idea that this "starvation" will last for only three days (and not a day more) is a highly motivating factor.
4. INEXPENSIVE
Unlike other diet plans, it doesn't cost anything, and you don't have to join a support group, buy supplements or special foods. Also, foods on this diet plan are easy to prepare. This way, you are actually saving your money as your daily allowed food costs just a small portion of three regular meals.
5. CUTTING DOWN ON CALORIES
The unexpected benefits of cutting calories include better sleep, a boost in your mood and enhancement of your sex life. Not only that, you can experience a weight loss and potential fat loss if maintained for a longer period of time.
6. MAKES IT EASY TO DIET IN FUTURE
If you are doing the military diet once, you will learn a few things about your lifestyle and what you need to reduce intake of. This is because you are only allowed to drink water, tea and black coffee with no sugar or cream.
7. YOU DON'T HAVE TO EXERCISE
Though exercise facilitates weight loss, under a military diet, you won't need any HIIT or cardio exercises. All you can do (if you find enough strength) is to do some light stretching, spot jogging and basic Yoga poses.
As you can see, there are some advantages and benefits of the 3-day military diet.
SIDE-EFFECTS & CONS OF MILITARY DIET
1. HUNGER PANGS
Despite the protein servings, a military diet will bring you the worst hunger pangs. You will be hungry all the time, and this is, therefore, a miserable way of losing weight. If you are working, your productivity will hit a slump because of low blood sugar slow brain activity.
2. MISSING SUPERFOODS
The diet plan doesn't include nutrient-packed superfoods like salmon, quinoa, almonds or avocado. You need these super-foods because they provide you with your healthy dose of omega-3 fatty acids.
3. FASTING THAT LONG IS UNSAFE
Going three days with under 1500 or even 1000 calories may leave you weak, and you may faint, experience dizziness, headaches, nausea, and binging three days after the fast. So, you are most likely to gain it all back immediately after abandoning the military diet. If you want to avoid regaining all your lost weight, you need to prepare a healthier meal plan for next few days after military diet.
4. WATER WEIGHT LOSS
The worst part about this diet plan is that you will most likely lose weight only in the form of water. Failing to lose fat means that you will get back your weight after the diet. Especially if you return to your regular diet that may be rich in salt and carbohydrates.
5. NO LONG-TERM PLAN
This diet outlines what you should and shouldn't eat in three days but, there is no long-term dieting plan. For sustainable weight loss, you need a long-term and a lifestyle diet plan.
6. EXPERTS ADVISE AGAINST IT
As stated on the CNN, despite the name Military Diet, active members of the military and military officials claim that they aren't aware of this diet and they don't use it because it is nutrient limiting. Also, organizations like the Cleveland Clinic, the American Heart Association, Birmingham Hospital, or Mayo Clinic disassociate themselves from the military diet.
FEEDBACK FROM 3RD PARTIES
FEEDBACK FROM 3RD PARTIES
3DAY MILITARY DIET RESULTS
COUPLES CHALLENGE: BEFORE & AFTER RESULTS
3 DAY CHALLENGE – BEFORE & AFTER RESULTS
EXTRA TIPS FOR A SUCCESSFUL FINISH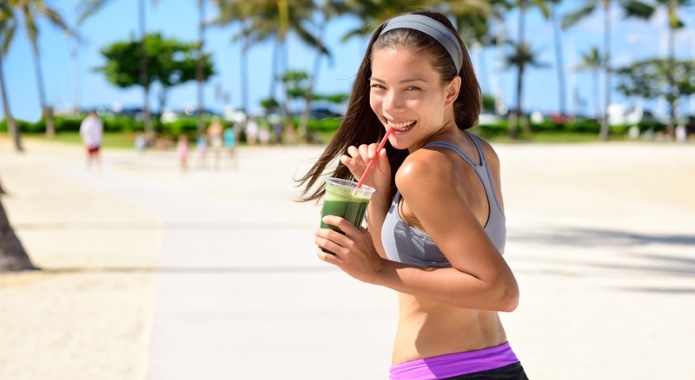 Some people struggle the first time they try the Military Diet. They might feel hungrier than expected, forget to buy certain ingredients or have a hard time committing the whole way through. These five tips will help ensure you get the most out of the Military Diet on your first try. The fourth tip is one of the most important.
DRINK LOTS OF WATER
(TIP #1)
Drinking water not only keeps you hydrated, but it is also an excellent way to keep your appetite at bay. Make sure you drink lots of water in the morning and throughout the day, so you feel less hungry when it's time to eat.
BUY EVERYTHING IN ADVANCE
(TIP #2)
Planning ahead is a great way to succeed on the Military Diet. We all know the dangers of grocery shopping while hungry, so plan your meals and buy all your groceries ahead of time. That way, everything you need will be close by, and you won't be tempted by other food that will hinder your success.
WORKOUT IN THE MORNING
(TIP #3)
Your metabolism is highest in the morning, so working out before breakfast is a great way to take advantage of that. Mild exercise will only enhance the results of the Military Diet and is a great way to get you pumped for the day. Just keep in mind that you will be exercising on your own risk.
DIET WITH A FRIEND
(TIP #4)
It's easy to be tempted to cheat on the Military Diet, and doing it with a friend will really help you stay on track. Having someone hold you accountable will drive you to work for it, and sharing the experience as well as results will keep you both motivated.
TRACK YOUR PROGRESS
(TIP #5)
Make sure you take before and after measurements so you can have something tangible to demonstrate your progress. This includes keeping track of your calories, especially if you use some food item substitutes. Keeping a log of both your calorie intake and weight loss will keep you on track and highlight your success.
Following all five tips presented above will highly increase your chance of dieting with success. Do you still have questions? Then have a look at our FAQ section below.
FREQUENTLY ASKED QUESTIONS (FAQs)
FAQ #1: WHAT IS THE BEST DRINK FOR MILITARY DIET?
The best drink for the Military diet is good old plain chlorine and fluorine-free water. It has the best hydrating properties and zero calories.
FAQ #2: CAN I DRINK COFFEE WHEN FOLLOWING THIS DIET?
The short answer is yes! A cup of black coffee contains only about five calories. As long as you don't add cream (which has a high-fat content) or sweeteners, you can drink up to 1 cup of coffee a day.
FAQ #3: CAN I SNACK WHILE FOLLOWING MILITARY DIET?
No. Remember, the Military Diet is specifically designed to boost your metabolism and burn calories. It requires dedication and commitment in order for it to work properly.
FAQ #4: CAN I WORK OUT & EXERCISE WHILE ON THIS DIET?
Absolutely! In fact, exercise is encouraged. Exercising burns fat and calories, so being active will greatly improve your results. However, vigorous exercise can make you feel weak if you haven't been eating enough calories, so slow down your activity a little if you find that happens to you.
It is important to maintain a right balance between low-calorie intake and mild forms of exercise.
FAQ #5: WHAT SEASONINGS CAN I USE TO PREPARE MY MEALS?
You can use salt and calorie-free seasonings like pepper, and most spices. If you use salt, or seasonings containing salt, be sure to use them in small doses or go for its pink Himalayan version.
FAQ #6: CAN I DRINK ALCOHOL WHILE FOLLOWING THE MILITARY DIET?
No. Alcohol contains empty calories, which basically means calories that your body can't use for energy. It is very important to avoid empty calories during the Military Diet.
FAQ #7: HOW SHOULD I PREPARE MY FOOD?
For vegetables, you can steam, boil, or eat them raw. For meat, you should bake or grill. Avoid frying your food as the oils contain lots of fat.
FAQ #8: CAN MEN TRY THE MILITARY DIET?
Yes! Men trying the Military Diet should add about 100 calories a day. However, it is best to add these calories eating protein rather than carbs.