HEY!
DO NOT Buy 21 Day Fix

until you read My REVIEW based on Fully Researched Information! 6 Easy-to-Follow Workouts and USER FEEDBACK Included!

The 21 Day Fix is a weight loss and fitness program designed to help you see fast results. Created by celebrity trainer Autumn Calabrese, this plan will enable you to break the cycle of failed diets finally.

It is so easy to follow, you'll wonder why everyone isn't using it as there's no obsessing over the "right" and "wrong" foods to eat. Everything is laid out for you in a simple, easy-to-follow format that concentrates more on portion control then calorie counting.

If you're serious about losing weight, then this product will help you reach your goals!
Autumn Calabrese & Her 21-Day Fix Program
Autumn is well-known in the fitness industry. She's a leading bikini competitor and a single mom who knows just how busy mothers are.
This is why she decided to share her 21-day system designed to deliver quick results with the world. It is based on 6 specialized workouts, and each will take you just 30 minutes (see more below)!
For the first 15 days, you'll be doing one workout a day. During the last week, you will be doing one in the morning and one in the evening to maximize results.
Each exercise is different, so you never grow tired of your routine, and they increase in difficulty as you progress.
Keep in mind: Throughout the entire program, Autumn (great trainer and motivator) will be there encouraging you during each session to keep pushing and moving forward.
This program is tough, but that's what makes it so effective. If difficulty is too intense for you, you can scale back to meet your own personal fitness level.
All The Stuff You Will Get
When you purchase the 21 Day Fix system, you receive everything you need to get started on your weight loss journey, including:
Easy-to-Follow Workouts (6) – The program comes with 2 DVDs with 3 exercises on each (6 in total). More precisely, these include Total Body Cardio, Upper Fix, Lower Fix, Pilates, Cardio, and Yoga!
Portion-Control System (Colorful Containers) – A unique portion control system that's color coded for easy following (

green – vegetables

/

purple – fruit

/

red – protein

/

yellow – carbohydrates

/

blue – cheese, and healthy fats

/

orange – seeds and oils

/ shakeology shaker cup – drinks). If the food fits into the container, you can go for it. There are no limits here, only portion restrictions.
21 Day Fix: Start Here – Simple, quick start guide that will tell you everything you really need to know about starting this routine and comes with a convenient workout calendar.
Free Bonus Gifts (4) – Along with the exercise and portion control system, you'll also receive 4 bonus gifts. These include 21-Day Fix Eating Plan, 3-Day Quick Fix, Dirty 30 Workout, and 24/7 Online Support!
As you can see, exercises in this regime are varied, so you'll never get bored. From strength training to yoga and Pilates, each one will present you with something new and fun.
Pay attention: You can purchase this stuff from an official website called "Beach Body" for 3 monthly payments of $19.95. You will get even a 30-day money back guarantee so you can try it for free!
There's also an independent, third party application for 21 Day Fix that helps you keep track of how many of each type of food containers you should be eating while following this routine!
Interesting User Feedback
Video Results by Amanda with Before & After Images (0:15 Minutes)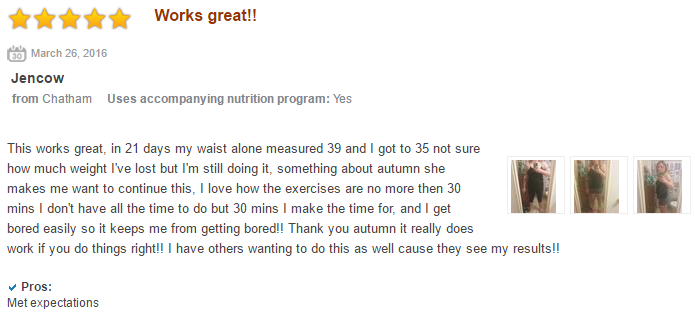 Does all of this really work? What are the outcomes? I bet these are the questions that are going through your mind.
The answer is – yes, this stuff does work, and the glowing customer testimonials on the official website say it all.
Pay attention: While results will vary with each person, users have lost anywhere between 6 and 61 pounds while following this program.
Final Verdict: Great Program for Toning Your Body & Learning Portion Sizes
I have to say that the 21 Day Fix is great at-home workout program. It will definitely teach you to eat healthier and take control of how much food you eat.
Although for me, personally, it was a little bit boring, it is very efficient and will get you in much better physical and cardiovascular shape in just 21 days. You can get yours on official website beachbody.com.
Luckily, with the 21 Day Fix program, you have nothing to lose but the weight.