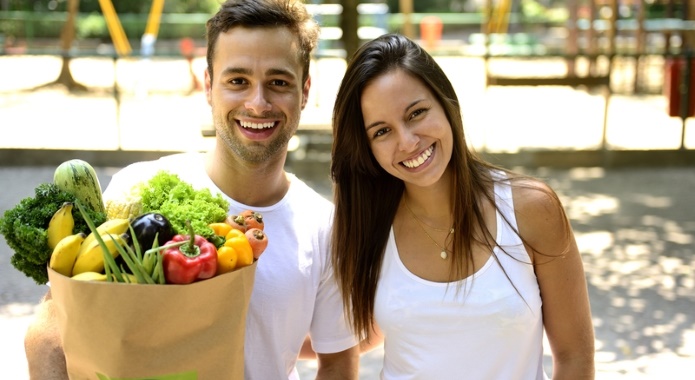 If you have been trying to lose anywhere between 10 to 20 pounds just as quickly as humanly possible, then you should focus on the GM diet.
This 7-day weight loss plan was originally designed to make sure that each person who follows this plan will shed excess pounds whenever they wanted to. (According to New York Times, it is a myth that the GM company is behind this diet.)
Surprisingly, this program has quickly gained a global following.
Basically, this entire plan has been designed and developed from the ground up to produce stunning weight loss in a hurry – by helping you eat much more efficiently and in a healthy way. All this is possible without forcing you to do anything that you wouldn't find enjoyable and pleasurable.
The GM diet incorporates already known aspects of weight loss that have had fantastic results. For instance, it is broken down into a meal schedule for just one week. It was built on the back of weekly programs that both Atkins and South Beach dieters used to great success in the past.
If you've always wanted to be able to lose a significant amount of weight in just 7-days, then you'll want to pay close attention to all of the information outlined below! There is even a great GM Diet application for your mobile phone you can use (for Android devices) (for Apple devices).
TABLE OF CONTENTS
SIMPLE 7-DAY GM DIET MEAL PLAN
DAY #1 (MEAL PLAN)
DAY #2 (MEAL PLAN)
DAY #3 (MEAL PLAN)
DAY #4 (MEAL PLAN)
DAY #5 (MEAL PLAN)
DAY #6 (MEAL PLAN)
DAY #7 (MEAL PLAN)
INDIAN & VEGETARIAN VERSION OF GM DIET
THE RECIPE FOR "SPECIAL" DIET SOUP
SIDE-EFFECTS & CONS OF GM DIET
USER FEEDBACK FROM 3RD PARTIES
9 BONUS TIPS FOR FASTER WEIGHT LOSS
FREQUENTLY ASKED QUESTIONS (FAQs)
SIMPLE 7-DAY GM DIET MEAL PLAN
INDIAN & VEGETARIAN VERSION OF GM DIET
Surprisingly, there is an easy vegan and Indian alternative to the GM diet. If you would like to move forward with this diet without adding any meat to the program whatsoever, then feel free to do so.
All you need to do is to follow these simple rules:
Do not make a change on days that do not require meat (days #1-4 & #7)
Make sure that you increase your daily caloric intake on days that include meat (days #5 & #6)
You can substitute meat for Indian cheese, cottage cheese, soybeans/soya chunks, brown rice or legumes
Try to keep the same amount of protein as in the meat portion of regular GM diet
Just keep in mind that if you do not keep the same amount of protein as well as increase the number of calories eaten on "meat" days as if you fail to do so you may notice a major drop in energy and a slowdown in weight loss process.
There is a detailed video that includes a sample meal plan below. We have written even our own detailed guide to the Indian/vegetarian version of GM diet.
When the GM company came up with their unique diet in 1985, the target audience was the company's employees. The diet was to whip...
THE RECIPE FOR "SPECIAL" DIET SOUP
This "wonder" soup is very simple and as you can see these ingredients are very easy to get and will not cost you a fortune.
Ingredients you will need:
22-28 Ounces of water
6 Onions (large)
3 Tomatoes (large)
2 Green peppers
1 Head of cabbage (red or white)
1 Bunch of celery
1 Red chili pepper (small)
1 Teaspoon of olive oil
1 Carrot (large)
Pink Himalayan salt & black pepper
Lemon juice
Directions you need to follow:
This recipe is simple. All you have to do is follow these few steps and you are finished:
Rinse and clean all vegetables
Peel onions, tomatoes, and carrot
Chop all the ingredients such as onions, cabbage, carrot, tomatoes, green pepper & celery into small pieces
Place a pot on the stove and add one teaspoon of olive oil
Heat it up and lightly saute onions and green peppers with a few drops of olive oil until they turn a light brown
Add other vegetables you have chopped in step three and sauté it only for an additional minute
Add water to this mixture of vegetables and bring it to boil on a slow flame
Cut up one small chili pepper and add it to the pot (optional, but good for improving metabolism through thermogenesis)
Add salt (pink Himalayan salt has many benefits), black pepper, dried herbs of your choice and season according to your taste
Slow cook it till everything is tender (between 45-90 minutes) and do not forget to stir it occasionally
Serve hot and add few drops of freshly squeezed lemon juice to your bowl for extra flavor
Enjoy your meal
There are countless weight loss products out there on the market, but this is one of the few solutions to have proven itself time and time again – all across the globe. If you want to get skinny, the GM diet is everything you have been searching for and so much more.
I bet you have decided to follow a GM diet plan and now you want to learn more about one of its main components...
SIDE-EFFECTS & CONS OF GM DIET
The GM diet is not sustainable over a longer period of time, seeing as it restricts the intake of many crucial nutrients. It is especially not suitable for those trying to gain muscle as the food proportions and types are not ideal for proper bone muscle formation.
Before you dive right into this diet, we strongly suggest you to check out what side-effects and cons are related to this type of diet.
1. WEAKNESS & MUSCLE LOSS
One of the primary shortcomings of this diet is the minimal amounts of protein allowed per day. The first few days of the diet restrict the intake of protein, and so you can expect muscle loss, and even the meals that follow the first 72 hours are not enough to sustain muscle content.
2. DIZZINESS & HEADACHES
The first three days may be characterized by incessant thirst, even after drinking enough water, and dizziness due to the reduced portions of food. Your body will crave for more food and will, therefore, use the water consumed to carry out digestive functions. The body may be near dehydration if you don't drink enough water.
3. LOWER LEVELS OF ENERGY
Some guides say you can work out while on this diet, but that is not practical. You will be weak from not eating enough food, and so your body cannot perform optimally. You could do a few workouts that do not strain you too much. However, weightlifting and intensive cardio could have you reeling and feeling too dizzy for a comfortable weight loss.
4. SLOWER METABOLISM
Even though vegetables and fiber are drivers of the metabolic system, lack of protein causes muscle degradation. Your muscle plays a vital role in metabolism, so you want to keep the levels up to par. Protein is also the building block of hair follicles, and less of it means dull hair and skin.
5. EVENTUAL WEIGHT GAIN
You won't be on this diet forever, and so the resumption of regular eating could lead to weight gain. The GM diet is best regarded as a detox that helps get rid of toxins, but it is not sustainable in the long run.
6. REQUIRES STRONG WILLPOWER
I won't lie to you. Dieting is hard, strict dieting is even harder. Restricting carbs and eating a low amount of foods and calories is one of the hardest things that require strong discipline. You have to stick to a plan you usually do not like. That is why you need to be highly motivated and maintain strong willpower to follow strict rules.
7. THERE IS LITTLE TO NO EXERCISES
There is little to no exercise allowed during this diet as you will feel fatigued and drained. A minimal amount of "sweating" might lead to slower weight loss. If you want to speed up a fat loss on GM diet, you should walk throughout your day, as this will no doubt burn calories and won't leave you extremely tired or exhausted.
8. RESTRICTION OF SEVERAL NUTRIENTS
Another downside of restriction based diets is the fact that you are missing some of the important nutrients your body needs to function properly. As mentioned in the points above, because you will eat only a limited types of food your body will miss protein (among other nutrients).
9. THIS DIET MAY CAUSE DEHYDRATION
While dieting, you might lose lots of water weight as you will stay away from sugary candies and salty junk food. You will feel thirsty because your body should get into fat burning and detox phase. To flush out toxins stored in fat, your body will need to use more and more water. As you can see, this is an easy way to get dehydrated.
The GM diet is said to be a product of GM, a 7-day plan that the company came up with in the 1980s to...
USER FEEDBACK FROM 3RD PARTIES
GM DIET: 1 WEEK AFTER RESULTS
MY GM DIET EXPERIENCE: WHAT I ATE FOR 7 DAYS
FREQUENTLY ASKED QUESTIONS (FAQs)
FAQ #1: WILL I LOSE WATER WEIGHT ONLY?
Not really. While, the majority of your results will be achieved through loss of water weight, thanks to the reduced caloric intake you will lose some of your body fat.
Therefore, this diet is ideal for kick-starting your metabolism in a short-term and not as a long-term approach to weight management.
FAQ #2: CAN I FOLLOW THE GM DIET CONTINUOUSLY? HOW MANY DAYS SHOULD I TAKE OFF BEFORE STARTING GM DIET AGAIN?
No, you should not use this diet as a continuous lifestyle. It is meant to be a kick-start for a better way of eating.
Once you finish your seven-day cycle, you need to have a week off period. Ideally, you should take at least a week or two off before you start again.
During your weeks off, you should focus on eating a healthy, mineral and vitamin rich food. This way, you can easily replace all those necessary substances you will lose during GM diet.
FAQ #3: HOW OFTEN CAN I REPEAT THE 7-DAY CYCLE?
Luckily, there is no minimal or maximal limit on the number of cycles you can do. However, as I have written in the answer above, you should take at least a week or two off.
Do not forget to follow tips and recommendations from above answers as well.
FAQ #4: WHAT SHOULD I EAT AFTER THE GM CYCLE TO CONTINUE LOSING WEIGHT?
To make sure that a kick-start weight loss achieved thanks to GM diet will continue, you shouldn't return to your old eating habits you followed before.
You should follow this advice:
If you have not exercised before, then start slowly. Gradually increase the difficulty of your physical activities to not injure yourself in the process.
FAQ #5: ARE THERE ANY HEALTH CONDITIONS THAT WILL PREVENT ME FROM FOLLOWING THE GM DIET?
I do not feel educated enough to answer this question. You should always consult dietary changes you want to take with your medical professional first.
From what I know, I can say that it is not suitable for diabetics, as well as pregnant and breastfeeding women.
FAQ #6: CAN I DRINK COFFEE OR GREEN TEA?
Sadly, you can not drink coffee while on this diet. In fact, you should not drink it even on your days off as it is not very healthy for your body (makes your body much more acidic).
On the contrary, herbal as well as green teas are fine. If you need to use any sweetener for your hot beverages, then go for dried stevia leaves as they include zero calories.
FAQ #7: CAN I ADD HONEY & LEMON TO MY WATER IN THE MORNING?
With regards to lemon, sure, you can add it to your water you drink daily. Just pay attention that lemon makes the environment of your stomach less acidic.
Therefore, you should drink it on empty stomach and wait for at least thirty to forty minutes before you start eating. Otherwise, you could experience indigestion and other health-related issues.
With regards to honey, you should not sweeten your water. While it is one of the healthiest sweeteners in the world, it adds a lot of calories to your daily menu you will not need while following GM diet.
FAQ #8: CAN I DRINK ALCOHOL DURING THIS DIET?
You are not allowed to drink any alcohol during GM diet. It is full of empty calories and can cause serious harm to your organism.
This is the reason why you should not drink alcohol even after you are finished with this diet. There are no health benefits of alcohol that would justify the need to drink it.
FAQ #9: CAN WE USE OIL TO COOK THE VEGETABLES & MEAT?
Sadly, you should not use any oil when cooking your meat or veggies if it is not explicitly stated.
You can see specific directions for each meal in paragraphs above.
FAQ #10: CAN WE ADD SALT, PEPPER & OTHER SPICES TO OUR FOODS?
Yes, these are allowed as long as you don't overdo it. Because you will be drinking a lot of water, you will be losing a lot of minerals from your body.
Therefore, you should add a dash of unprocessed salt such as its pink version from Himalaya mountains into your drink. With regards to pepper, spices, and dried herbs, there are again no rules as long as you keep things normal.
FAQ #11: CAN I MUNCH ON DRY FRUITS OR NUTS?
All dried nuts and fruits are not allowed because these foods provide you with highly concentrated nutrients and energy that you do not need.
You can have these as healthy snacks during your week off but only in small quantities.
FAQ #12: CAN I EAT ROTI-S LIKE CHAPATI, PULKA, WHEAT BREAD, CEREAL, ETC... ?
Sadly, you can not eat these because they include a substance called gluten. The GM diet, on the contrary, aims to be gluten-free.
Remember that there are many claims that wheat full of gluten is bad for your body. It can even cause weight gain with other health issues, and if your regular diet is based mainly on it, you will likely not be able to maintain your weight loss after this diet!
3RD PARTY RESOURCES ON GM DIET: