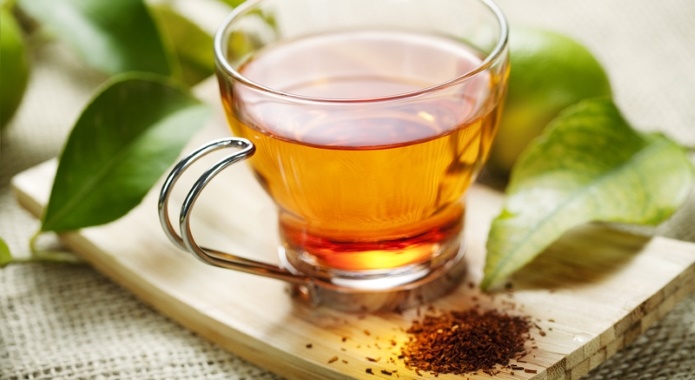 REMEMBER: These Are 9 MOST Important Benefits of Rooibos Tea! Pay SPECIAL Attention to Benefit #7! These Tips Helped Over 35,000 Readers of DIETBLY! Contraindications & Dangers INCLUDED!
Are you drinking Rooibos Tea? If so, then you should know that it dates back to 1772 and comes from South Africa. Found in both red and green variations, it is as delicious as it is healthy.
How many cups a day should I drink of this great tea?
According to Rooibos Council, the ideal amount is 5-6 cups of rooibos tea per day to enjoy the most benefits. Do not drink more than 5-6 cups a day.
Through our in-depth research and analysis, we've found nine cool facts and benefits that you probably never knew about this hot beverage.
Benefit #1 – Assists with Weight Loss
Is the connection between tea and weight loss real? There have been many different types and brands of this drink promoted for the purpose of fat burning.
There are two main reasons why rooibos, in particular, is so good at helping you keep the slim figure:
Low in calories – Without adding extra sugar, this hot beverage has just two calories. Drinking tea versus 100+ calorie sodas will automatically reduce your daily caloric intake!
Naturally sweet – Worried about not having sugar? This type of drink is naturally sweet, so it's a good choice for losing excessive pounds!
Rooibos contains Aspalathin – This unique flavonoid helps to reduce stress hormones that trigger hunger and fat storage, typically associated with high blood pressure, heart disease, metabolic syndrome, insulin resistance and Type 2 diabetes.
According to HealthyFocus.org red bush tea will help you lose weight:
"Simply drinking rooibos tea while making no other lifestyle and diet changes will not impact the scales but as a part of an overall diet plan, rooibos tea will not only benefit your health but might lead to a decent amount of weight loss.
Of course sweetening the tea with sugar or honey and adding milk will negate any weight loss benefits so make sure that you drink it unsweetened and without adding milk.
Do not expect super-fast results; losing weight healthily will take a fair amount of time but losing your weight steadily is the best way to keep it off in the long run."
Rooibos tea on its own is low in calories, unless you add tons of sugar or honey or even milk. Calories in and calories out is the main thing you should keep in mind in regards to losing weight, so drinking plain rooibos will satisfy your thirst without consuming added calories. You could even boost calories burned per day with our comprehensive list of exercises.
Drinking rooibos inhibits fat-storage hormones according to Rooibos Council:
"Rooibos tea contains no fat or carbohydrates and its weight-loss properties further extends to inhibiting fat-storage hormones within the body.
Rooibos's unique Bioflavonoid, Aspalathin, helps to reduce stress hormones that trigger hunger and fat storage, typically associated with high blood pressure, heart disease, metabolic syndrome, insulin resistance and Type 2 diabetes.
In a nutshell, Rooibos tea can prevent the body from storing and even forming new fat cells." 
According to South African researchers, polyphenols and flavonoids found in the plant inhibits adipogenesis (the formation of new fat cells) by as much as 22 percent. These chemicals also aid fat metabolism and promote weight loss.
Related research study:
"Decreased leptin secretion was observed after rooibos treatment. Our data show that hot water soluble solids from fermented rooibos inhibit adipogenesis and affect adipocyte metabolism, suggesting its potential in preventing obesity."
– Sanderson, M., et al. (2014). "Effects of fermented rooibos (Aspalathus linearis) on adipocyte differentiation", in Phytomedicine. Vol. 21(2). Pp. 109-17.
Remember, red bush tea is not as strong as green tea in regards to weight loss. Green tea contains catechins that have been linked to fat burning processes. Even switching out one 8-ounce cup of coffee for a tea per day will lead to 7.5 pounds of weight reduction over a year.
Related research study:
"Daily consumption of tea containing 690 mg catechins for 12 wk reduced body fat, which suggests that the ingestion of catechins might be useful in the prevention and improvement of lifestyle-related diseases, mainly obesity."
– Nagao, T., et al. (2005). "Ingestion of a tea rich in catechins leads to a reduction in body fat and malondialdehyde-modified LDL in men.", in The American Journal of Clinical Nutrition, Vol. 81(1).
For more weight loss ideas, check out this article – 22 Best Teas for Weight Loss.
Benefit #2 – Assists Against Insomnia & Promotes Good Sleep
Do you have a hard time staying asleep? Heavy caffeine drinkers are often up in the middle of the night and can't catch any sleep for an extended period.
If you're the type of person that goes for a cup of coffee a half hour before bed, this can be the primary cause of all your problems. Rooibos, on the contrary, has been shown to fight off insomnia and can be used as an alternative to sleeping pills.
Through its ingredients, you become calmer and more relaxed.
Your cortisol levels (a hormone that makes you stressed) are also kept lower after just one cup. With no caffeine, you can drink this tea right before bed and enjoy a full night's sleep without any adverse side effects involved.
Related research study:
"In vivo studies demonstrate that Rooibos significantly decreased glucocorticoid levels in rats and steroid metabolite ratios linked to metabolic disorders–cortisol:cortisone in humans and CORT:testosterone in rats. Results obtained at cellular level elucidate possible mechanisms by which these effects were achieved."
– Schloms, L., et al. (2014). "Rooibos influences glucocorticoid levels and steroid ratios in vivo and in vitro: a natural approach in the management of stress and metabolic disorders?", in Molecular Nutrition & Food Research, Vol. 58(3). Pp. 537-49.
Benefit #3 – Caffeine Free
Caffeine in tea can be as high as that in coffee. While not inherently bad for your health, this substance can make your heart rate rise, cause dizziness, jitters, and troubles with sleeping in some cases.
Muscle tension and tiredness can also follow after you stop taking it.
Being caffeine-free, you never have to worry that Rooibos will leave you with jitters or other unwanted side effects. This indicates that it may be a better choice for pregnant women, children, and caffeine-sensitive people.
Related research study:
"Rooibos tea may prevent DNA damage and inflammation by its anti-oxidative activity in vivo. As Rooibos tea is free from caffeine, routine intake may be safe and useful in reducing oxidative stress in children."
– Baba, H., et al. Studies of anti-inflammatory effects of Rooibos tea in rats. 2009. Pediatrics International. 51(5): p. 700-704
Benefit #4 – Relieves Various Skin Conditions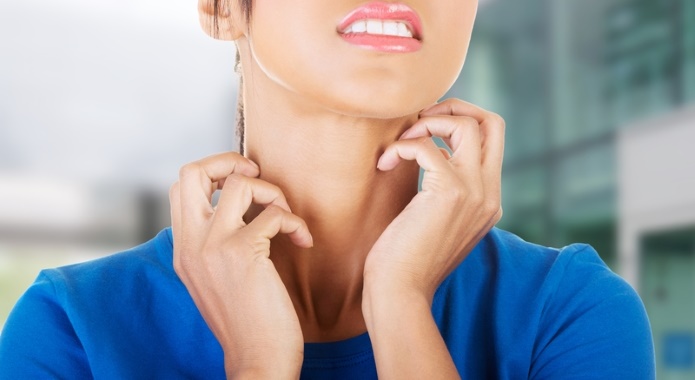 Skin issues can be relieved thanks to the rooibos tea. You have two options here – drink it or apply it directly to your skin. If your condition is severe, a direct application may prove to be more beneficial.
Some of the conditions that substances from this tea may improve include:
– Eczema, sunburn, rashes, dry skin, and irritation
Many parents will apply this tea to their babies if a diaper rash is present as it should reduce the itchiness, irritation and should lead to quick relief. The alpha hydroxy acid along with zinc also help to ensure that your skin is smooth.
Related research study:
"Growing evidence suggests that polyphenols may be used for the prevention of sunburns as polyphenols decrease the damaging effects of ultraviolet A (UVA) and ultraviolet B (UVB) radiation on the skin."
– Saric, S., Sivamani, R.K. Polyphenols and Sunburn. 2016. International Journal of Molecular Sciences. 17(9).
Related research study:
"Our data suggest that longer treatment intervals with glycolic and lactic acid can cause improvements in both the epidermal and dermal components and support the usefulness of AHA [alpha-hydroxy acid] for rejuvenating photo-damaged skin."
– Yamamoto, Y., et al. Effects of alpha-hydroxy acids on the human skin of Japanese subjects: the rationale for chemical peeling. 2006. The Journal of Dermatology. 33(1): p. 16-22.
Benefit #5 – Helps Your Liver
Antioxidants found in the tea can protect your liver against damage caused by t-BHP. Furthermore, rooibos was shown to reverse some of the initial damage caused to the liver and helps to repair this organ even further!
The study has only been conducted on mice, but it has already been recommended as a supplemental form of liver treatment that works well combined with other medicinal options.
Related research study:
"Simultaneously, rooibos tea significantly suppressed mainly the increase in plasma activities of aminotransferases (ALT, AST), alkaline phosphatase and billirubin concentrations, which are considered as markers of liver functional state. The antifibrotic effect in the experimental model of hepatic cirrhosis of rats suggests the use of rooibos tea as a plant hepatoprotector in the diet of patients with hepatopathies."
– Ulicná, O., et al. (2003). "Hepatoprotective effect of rooibos tea (Aspalathus linearis) on CCl4-induced liver damage in rats", in Physiological Research, Vol. 52(4).
Benefit #6 – Calms Upset Stomach
Inflammation in our digestive system often causes an upset stomach. When your belly hurts, all you need to do to find a relief is to drink a cup of hot tea. Rooibos, in particular, contains a substance that is called "quercetin."
This ingredient is known to be an anti-inflammatory agent. One cup will relieve upset stomach and reduce inflammation in your digestive system, which often leads to bloating.
Related research study:
"However, to our knowledge these are the first data to show a benefit of the quercetin on polyp number and size distribution in the ApcMin/+ mouse model of intestinal tumorigenesis."
– Murphy, E.A., et al. Quercetin's effects on intestinal polyp multiplicity and macrophage number in the ApcMin/+ mouse. 2011. Nutritional Cancer. 63(3): p. 421–426
Related research study:
"Its constituents, chrysoeriol, orientin and vitexin showed a similar pattern of spasmolytic effects to the extract, while rutin was more like verapamil. So Rooibos tea possesses a combination of dominant K(ATP) channel activation and weak Ca(++) antagonist mechanisms and hence justifies its use in hyperactive gastrointestinal disorders."
– Gilani, A.H., et al. Antispasmodic effects of Rooibos tea (Aspalathus linearis) is mediated predominantly through K+ -channel activation. 2006. Basic & Clinical Pharmacology & Toxicology. 99(5): p. 365-373.
Benefit #7 – Full of Antioxidants
One study looked at the antioxidant levels within the tea. What researchers discovered is the fact that antioxidant substances in Rooibos prevent free radicals from attacking your DNA.
Okay, so what does this all mean?
When you drink it, your body will be better able to fight off free radicals that kill or weaken your cells. Antioxidants (such as aspalathin and nothofagin), also known as polyphenols, also help ward off diseases, such as cancer and heart disease.
Related research study:
"This result indicates that total soluble phenolics, specially flavonoid, of Rooibos tea are responsible for several kinds of antioxidant activities and preventive activity on peroxyl radical induced DNA strand scission."
– Lee, E. J., et al. (2004). "Antioxidant activity and protective effect on DNA strand scission of Rooibos tea (Aspalathus linearis)", in BioFactors, Vol. 21(1-4).
Benefit #8 – Rooibos as a Cancer Prevention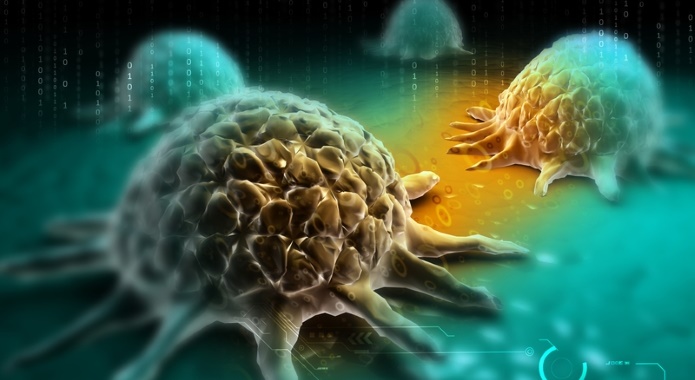 Although it may surprise you, cancer and tea are tightly linked together. Green and Rooibos tea, in particular, are known to help modulate immune function in your body and hence lowering your chances of getting this systemic disease.
The question remains: Will this stop cancer that's already developed?
Sadly, the answer is no.
However, Rooibos (and various other teas) can be used in conjunction with medicines and treatments when this nasty disease has already developed within your body.
Related research study:
"Fermentation of herbal teas reduced the inhibitory effects on papilloma development associated with a reduction in the polyphenolic constituents. The inhibitory effect of herbal teas on papilloma development is associated with different flavonoid subgroups and/or combination thereof."
– Sissing, L., et al. (2011). "Modulating effects of rooibos and honeybush herbal teas on the development of esophageal papillomas in rats", in Nutrition and Cancer, Vol. 63(4).
Related research study:
"Thus, our findings suggested that Rooibos tea extract may facilitate the antigen-specific antibody production through selective augmentation of IL-2 generation both in vitro and in vivo. Collectively, Rooibos tea intake may be of value in prophylaxis of the diseases involving a severe defect in Th1 immune response such as cancer, allergy, AIDS, and other infections."
– Kunishiro, K., et al. Effects of rooibos tea extract on antigen-specific antibody production and cytokine generation in vitro and in vivo. 2001. Bioscience, Biotechnology, and Biochemistry. 65(10): p. 2137-2145.
Benefit #9 – Good for Your Heart & Diabetes
According to the research study conducted by Linköping University not only do antioxidants help your heart, but tea, both black and Rooibos, can improve your heart health due to inhibition of ACE activity.
Furthermore, cardiovascular mortality was decreased, but the reason these drinks helped is still unknown.
When it comes to diabetes, another study conducted by Tokio University of Agriculture and Technology showed that this type of hot beverage may aid with type 2 diabetes specifically. Due to the flavonoid called aspalathin found in it, glucose uptake was increased, improving its tolerance in just five weeks!
Related research study:
"These results suggest that aspalathin has beneficial effects on glucose homeostasis in type 2 diabetes through stimulating glucose uptake in muscle tissues and insulin secretion from pancreatic beta-cells."
– Kawano, A., et al. Hypoglycemic effect of aspalathin, a rooibos tea component from Aspalathus linearis, in type 2 diabetic model db/db mice. 2009. Phytomedicine. 16(5): p. 437-443.
Related research study:
"These results suggest that green tea and Rooibos tea may have cardiovascular effects through inhibition of ACE activity."
– Persson, I. A., et al. (2010). "Effects of green tea, black tea and Rooibos tea on angiotensin-converting enzyme and nitric oxide in healthy volunteers", in Public Health Nutrition, Vol. 13(5).
Contraindications & Dangers You Need to Know About
Thankfully, this tea comes from natural sources, so there are just a few risks to worry about. However, there are three main issues you may experience:
Toxicity – There is a chance of having too much of rooibos that could cause toxicity, but you would need to drink such an absurd amount that it's unfeasible for this to occur.
Cancer – One concern with cancer is that those with hormone-sensitive types of this disease will want to consult their doctor before taking Rooibos tea. The reason is that it promotes estrogenic activity that could worsen your breast cancer.
Health damage – Taken in large quantities, it can harm your kidneys and liver. However, small amounts, as shown above, actually help to protect these organs.
As always, practice in moderation and consult with your doctor if you have kidney or liver disease, or any cancer. For a healthy individual, Rooibos can be extremely beneficial and packs a lot of great benefits in just an 8-ounce cup!
Related research study:
"Our studies show that dong quai and ginseng stimulate the growth of MCF-7 cells independent of estrogenic activity. Because of the lack of efficacy and the potential for adverse effects, use of these herbs in humans warrants caution pending further study."
– Amato, P., et al. (2002). "Estrogenic activity of herbs commonly used as remedies for menopausal symptoms", in Menopause, Vol. 9(2).
Related research study:
"Although hepatotoxicity associated with rooibos and buchu has rarely been reported, anecdotal correspondence with South African physicians confirmed suspected cases. Hepatotoxicity may be due to the heterogeneous composition of herbal teas due to small-batch manufacturing. Our case clearly outlines the need to suspect herbal causes of idiopathic liver injury."
– Engels, M., et al. Tea not Tincture: Hepatotoxicity Associated with Rooibos Herbal Tea. 2013. ACG Case Reports Journal. 1(1): p. 58–60.
Introduction to Rooibos Tea
Click on The Image Above to Watch the Video
What Does Dr. Oz Think About It?
Dr. Oz is famous for his weight loss tips and secrets. One of the best tricks used in South Africa to remain slim is drinking Rooibos Tea. In fact, Dr. Oz had a recent show that talked about this in-depth.
The main reasons why you should try it out (if you want to shed some excessive pounds) is that it tastes good and has only two calories.
It doesn't get much better than that!
He also mentions that swapping out one cup of coffee for this hot drink will lead to a whopping 7.5 pounds of weight loss in one year. If you drink coffee four times per day, this is nearly two pounds of fat reduction per month. Not bad, right?